[vc_row][vc_column][vc_column_text]
Get some quick wins on the board and your business processes flowing to the right people, at the right time in the right place! Here's how!
We recently re-ran a snap survey asking people what their "go-to" Office 365 app is each morning. Can you guess what the number-one answer was?
That's right, it's still Outlook. People still love their email and it's still by far the thing most people head for first each day.
But compared to last time we ran this survey, there's been a definite uptick in the number of people who said their go-to app is Microsoft Teams.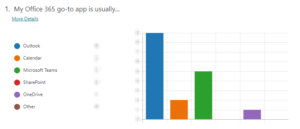 What does this tell us? That thanks to remote working and the unprecedented communication and collaboration needs repeated lockdowns have placed on us, more and more people are leveraging their Microsoft 365 stack better today by actively using Microsoft Teams.
And this is a GREAT thing, because there is so much more to Office 365 than just Outlook alone!
"WIIFM?", you ask though as the business owner, manager or decision maker?
In essence, if there's more to Microsoft 365 than your people are using, it means you're effectively under-utilising what you're paying for in your license fees!
What else in Microsoft 365 could I/should I be using?
To answer this question, let's first clear up a common misconception about Microsoft Teams
It's important to remember that Microsoft Teams is not a standalone product. It has been purpose built and designed as a hub for teamwork – a way of bringing together and surfacing a range of other Microsoft 365 tools and functionalities into one central workspace. What that means is that you don't have to leave Microsoft Teams to use lots of other great Microsoft 365 tools like team-based chat, file access, storage and collaboration, calling, calendar functions, meetings, as well as Microsoft Planner, Lists, Forms, Power BI and most recently Approvals.

The idea is to use Microsoft Teams as the central hub to surface lots of other great tools that exist in the Microsoft 365 ecosystem, and then automate those workflows so..
You don't have to leave Teams to keep working
You have what you need delivered to you or where you need it to go – automatically!
For this purpose, the Microsoft Power Platform suite of tools exists, and Power Automate (formerly called Flow) holds the key to getting started with Teams-centred workflow automation.
What is Power Automate?
Power Automate let's you create automated, instant or scheduled workflows that bring together and process data and information from different cloud services across your Office 365 ecosystem, and even beyond.
Here are a few examples, thanks to Microsoft, of what you can do with Power Automate.
Automate business processes
Send automatic reminders for past due tasks
Move business data between systems on a schedule
Connect to almost 300 data sources or any publicly available API
You can even automate tasks on your local computer like computing data in Excel.
Why Power Automate ? What's in it for YOU!
As we've covered already in our Power Platform intro there are two answers to this question.
Short answer – because you can! (You're already paying for it through your licence cost after all!) And because automation saves time, and saving time saves you money!
Long answer – because as work becomes more dispersed and our work interactions change, our data and documents need to start following the people who are using them and automation gives us the opportunity to remove manual processes and the chance of human error from those processes.
Not sure what that might look in real business life?
Let's take a look at a few in-action Microsoft Power Automate workflow examples.
From Quick Wins to End-to-End Processes – Start small to win big!
Here are just a few examples of Power Automate use cases we've seen change the game for businesses we work with using Microsoft 365.
5 examples of quick Power Automate wins you might like to try…
Get a notification in a channel in your Team when a new Microsoft Forms response is submitted.
Get a notification in a channel in your Team when they status of a Microsoft Planner task is updated or completed.
Need to move files from one Team to another? Set up an approval process for a new file in SharePoint online to move it to a different folder in SharePoint online.
Create a flow button for mobile to allow your team to log the current time to track their remote working hours in an Excel Online table.
Notify your marketing team when a tweet with a hashtag is posted.
And a few examples of longer business process wins that might get you thinking…
Do you need an application and approval flow for a business process in your organisation?
You can use Microsoft Forms to set up an application form and either post it to your team or add it as a permanent tab to the top of a channel in Teams, and then you might
Automate a flow for your team to receive a notification in your teams Conversation feed when a few response to a Microsoft Form is submitted.
Create a flow for completed forms to be routed to the right person for approval
Configure an action to be completed (for example, an "request approved" message to be sent to the applicant)
Use the request approved notification to trigger a next-step action.
What about a way for people to add work requests to a team for them to track and schedule?
Again, you can use Microsoft Forms to set up an application form and either post it to your team or add it as a permanent tab to the top of a channel in Teams, and then you might…
Have a work task in Planner, for example, added when a Microsoft Forms response is submitted and post a message to your team in Microsoft Teams that a new task has been added.
Get a notification in a channel in your Team when they status of a Microsoft Planner task is updated or completed.
These are just a few examples – leveraging the full suite of Office 365 connectors and 3rd party services the possibilities are literally endless.
If you would like us to show you how it's done with Power Automate templates or customise a Power Automate flow for you, give us a call on 1300 629 786 or Contact us here for more.
---
[/vc_column_text][vc_empty_space][vc_video link="https://www.youtube.com/watch?v=hCuxuUaGC6Y" el_width="70″ align="center"][vc_empty_space][/vc_column][/vc_row]