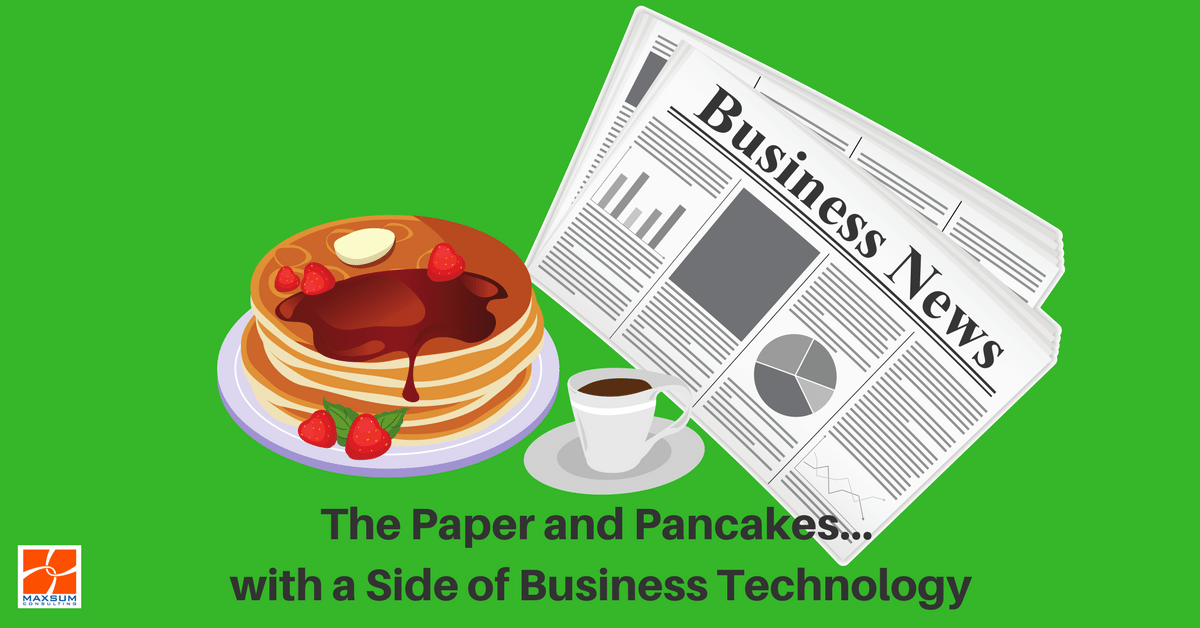 Eating Business Technology Strategy for Breakfast
The kids cooked breakfast on the weekend, which meant I actually had time to read the paper. Not just flick through the feed on my phone, but actually spread The Weekend Australian out across the table as I tucked into some pancakes, and peruse!
But as I read Sunday morning, something really struck home to me – just how much talk there is out – even in traditional print – about big business feeling the pinch to transform, reinvent or rechart their strategic directions, especially on the technology front. Article by article I was reading the same message– it's time to change or be changed.
As our social media feeds have all but automated what we read, most of us know (and consent to, by adoption) that we are seeing and reading a stream of content that the algorithm has, very astutely, predicted we want to read…but it's quite another thing altogether to go back to print media and see a patch-worked double-spread of article after article throwing up the same message; businesses feeling impending change, businesses failing from lack of technology governance, businesses losing money by not building new revenue streams, businesses trying to embrace change…but very shakily.
In fact, The Weekend Australia Business Review section last week featured no less than six major features telling tales of tech-strategy related loss, financial woes, damaged reputations, and impending change.
Big business is feeling it. Small business is feeling it. And there are many, as I spent a good few hours reading about on the weekend, who are consistently dropping the ball in three key areas:
Shifting their Mindset
Having and Following A Strategic Plan (including ongoing management, reassessment and adjustment)
Buying into the Bigger Vision
Let's look at a few examples using the news articles of the weekend.
Shifting Your Mindset
In a great article about Amazon setting up shop in Australia, we read about a key point of difference in the Amazon story – taking cost centres and turning them into profit centres in their own right – even if they are not profit-making right off the bat! Even cloud computing giant Amazon Web Services started life as Amazon's internal IT division.
"The common theme within the layers of the Amazon model is that what others might see as cost centres it regards as opportunities not just to profit, but to generate increasing scale…"
The message: Business technology is so much more than just finding ways to "get stuff done" faster and cheaper. It's about capacity building, positioning your business for growth and scaling up, and about engaging with entirely new partners, customers and markets.
Having and Following a Strategic Plan
Oh the CBA is in big trouble…No-one ever wants to see their company name and "money laundering" in the same sentence, but apparently the repair of a software glitch caused an automatic anti-money laundering notification system to be accidentally "switched off" from 2012 to 2015 UNNOTICED, exposing the CBA's Intelligent Deposit Machines to large-scale criminal abuse.
No matter which way it falls, it's clear that the dialog between technology and risk management had broken down, if it was ever effective in the beginning.
"The best possible gloss…is that the bank was hamstrung because it didn't have the required information and records to do something about it."
The message: Strategy planning, oversight and governance is essential in aligning technology roll-outs in the pursuit of larger business objectives. And it's not just enough to implement digital-grade roll-outs, they need to be managed, monitored, reviewed and governed according to process.
Buying into the Bigger Vision
This is an area where there are lots of tales to tell. From Avon cosmetics financial fall-out due to their failure to get into the online shopping market, to ongoing tales of how flawed and costly Australia's NBN roll-out is. But let's look for a moment at the discussion in retail about the emergence of AI and robotics potentially replacing manual jobs promised by big-name retail investments in Australia.
"…definitely there are some jobs more at threat, but (…) see it as an opportunity for growth for workers in Australia because I think with AI and robots we are not at a stage where they are going to take over the world, but AI gives opportunity for people to learn new tasks, takes away basic tasks, and presents opportunities for employment to grow."
The message: Feeling "disrupted" is uncomfortable, but the change and disruption starts off slowly and builds and accelerates in momentum as time goes on – it's not going away. There is time for businesses to respond, adapt and chart their own course now, but the demand is that they start to do something – change or be changed.
The paper and pancakes with a side of biz-tech strategy – the perfect Sunday!