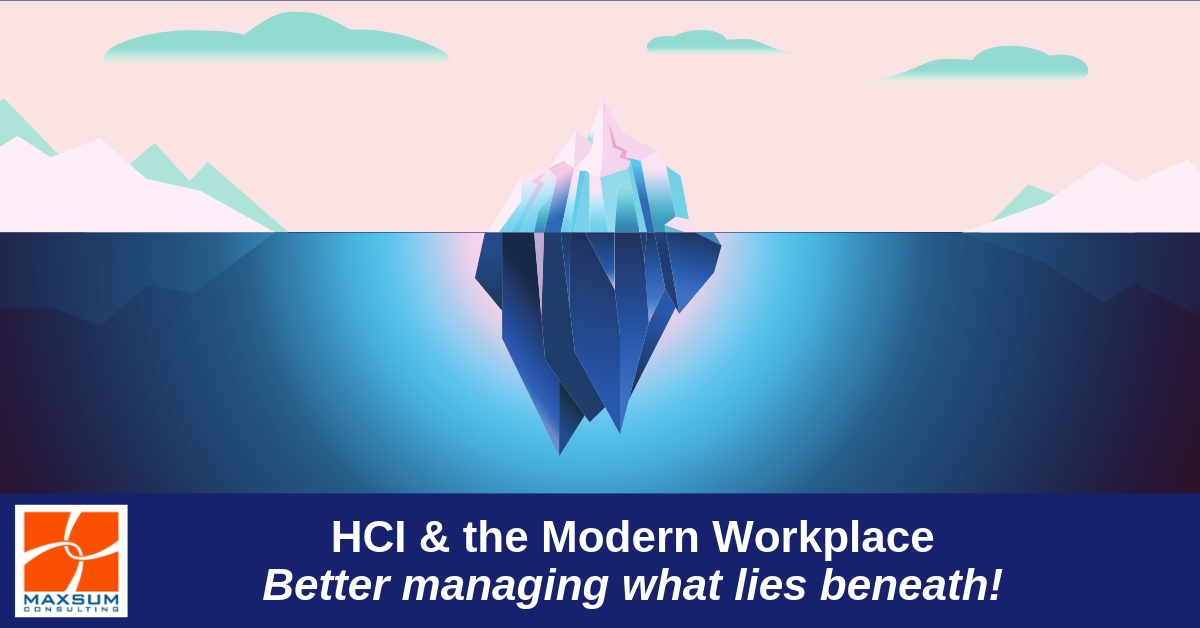 Hyperconverged Infrastructure and the Modern Workplace
Hyperconverged Infrastructure provides the foundation and flexibility you need to build a truly scalable, future-ready workplace.
One of the hottest business technology topics around at the moment is this concept of "the Modern Workplace". At first pass you might think this is all about decking out your offices with schmick finishes and the latest tech, but the Modern Workplace concept is really about the changing focus of technology – away from all the speeds and feeds and towards delivering practical efficiency wins for the people who actually use it.
The modern workplace focuses on leveraging all new tools and platforms that enable your teams to work creatively, collaboratively and securely, with the latest machine learning tools running in the background to preempt and better manage work flows and individual work styles. It's pretty powerful stuff that is actually enabling the long-promised dream of people being able to work and collaborate productively, remotely, flexibly and securely.
But how then do your IT admins and managers deal with the challenge of managing and delivering this flexibility to their users – how do you better manage what lies beneath?
What is Hyperconverged Infrastructure?
There is no denying that the boom in cloud and as-as-service offerings has empowered organisations to be more flexible than ever before. But the full cloud lift-and-shift operation is not always the right solution for every business – especially larger organisations with complex compliance needs, specialised line of business applications, or whose operational requirements require differing levels of robustness and recoverability.
Hyperconverged infrastructure or HCI leverages software-based services that are tightly linked with scalable infrastructure. HCI allows organisations to leverage the perfect best fit of cloud architectures with the veritable robustness and performance of on-premises infrastructure. The best of both worlds, so to speak – except that the on-premises component is no longer traditional "hardware" but software-based "virtualised" storage and networks that can be centrally managed.
So, if the Modern Workplace is what is delivered to end users at the front end, HCI is designed for centrally managing and scaling the storage, networking and compute resources needed to realise that workplace from the back end – it's what lies beneath!
Here's what industry-leading cloud and virtualised technolgy providers commonly envisage bringing to the stack in a HCI set-up.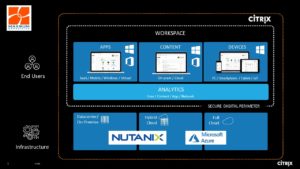 But it's probably best if we let some techs explain what they know best. Our marketing manager Rebecca recently sat down with one of our senior technicians at Maxsum to find out what all the HCI fuss is really about. Watch the video below for a high-level overview of what HCI brings to the table and read on for more as the conversation continued off-camera!
What's the HCI difference? Marcelo Explains!
Rebecca: One of the questions we get quite often is "what is HCI? And how does it differ to the traditional SAN + server infrastructure?"
Marcelo: HCI is a software-defined infrastructure. An HCI solution consists of a "cluster" of storage, compute and networking nodes, which can be expanded to accommodate extra nodes in any combination required. It's very different from the traditional mode of managing hardware sitting in a data centre. Everything is virtualised.
Rebecca: What are the benefits to virtualisation?
Marcelo: Most importantly, there is no single point of failure, as the nodes are all distributed across the cluster and it's easy to scale.
Rebecca: So, in a traditional business environment, if you say, double the size of your workforce you'd have to go out and buy another SAN and try to distribute loads between them. What happens with HCI?
Marcelo: HCI simplifies that whole process; you just have to spec out what you need more of – storage, more RAM, CPU power and so on – and as soon as you add the node to the cluster, the cluster can see the node and you're up and running.
Previously it's been really hard to predict and manage storage upgrades. First, you'd have to call your vendor; sometimes your storage is already maxed out, so you have to migrate your storage to be able to have more resources. Of course, this process is very painful, and it takes time. With HCI you just buy a new node. If you need more storage you buy a storage node, if you need more compute power you buy a compute node.
Rebecca: So, it's like you're purchasing on demand almost?
Marcelo: That's correct.
Rebecca: What about the manageability of the environment?
Marcelo: Traditional methods used to have an administrator for managing storage, servers, networks, everything that is now built into the HCI.
HCI provides central visibility where you can provision virtual machines, containerised applications, networks and storage from one single pane of glass. By being able to centralise the management we can reduce the IT management workload and overheads. It decreases the cost of your traditional infrastructure management.
Rebecca: Over and above the additional levels of manageability and scalability, what other benefit does HCI offer for a client's network?
Marcelo: In a traditional model, even when you used virtualised servers, it was a one-to-one relationship. So, if you had six CPUs on the physical server you wanted to virtualise, you needed 6 VCPUs, and the same for memory and storage.
With the machine learning intelligence built into HCI, you now get a clear view if the virtual machine or the application container is over provisioned or under provisioned and can manage accordingly.
Rebecca: So, it makes it a lot easier for business owners or business managers to know what's happening within their infrastructure and when they might need to grow and scale their infrastructure as well.
Marcelo: That's right, better resource management and predictability.
Find out what HCI can offer you.
Maxsum is working with partners Microsoft, Citrix and Nutanix to deliver enterprise-grade HCI capabilities to clients.
To find out more about:
The concept of the Modern Workplace as the flexible, scalable workplace of the future.
The benefits of fully aggregating all apps and data across all applications
The potential for integrating virtual apps and desktops into your employee's workspaces
An overview of the Citrix, Nutanix and Microsoft offerings and an explanation of how they fit together to enable the modern workplace experience.
Give us a call on 1300 629 786 or Contact Us.
---

Read More
Other great Maxsum content you might like to read:
5 Office 365 collaboration tools you're not using…but should be!

-

When we talk about leveraging technology to boost productivity in organisations we talk a lot about embracing the benefits of cloud, adopting more flexible ways of working, and mapping out better processes to support your new digital-age modern workplace. Microsoft Office 365 collaboration tools often play a central role in the cloud strategy for small to medium sized businesses and its important that you get the most out of your technology.Continue Reading
5 Sure-Fire Signs You're Ready to Move to the Cloud

-

When is the right time for your business to move to the cloud? Timing is everything, as they say…Until you're too late! If moving all or part of your workloads to the cloud has been on your mind for a while, here are the 5 tell-tale signs that it time to move to the cloud! It's time to bid Adios! to your server and on-prem ways if…Continue Reading
Is Your "Digital Perimeter" Ready for a Mobile Workforce?

-

Where do you think your business starts and finishes? Reception? The back door? Car park? Bus ride home? Airport lounge? Kindergarten pick-up? Friday drinks? Have you ever thought about how and where your business is really being conducted out in the wider worldContinue Reading