The Internet of Things (IoT) is one of the hottest business technology topics peaking the interest of innovators, technologists, analysts, businesses and board rooms around Australia and the world.
Why now? And what's the opportunity?
Adding "smarts" to previously unconnected "things" is an alarmingly simple concept, but where things get really interesting is when we look at how data from IoT devices captured in real-time and at-scale can be put to work to power innovation.
But what's important to realise about IoT is that IoT itself is NOT the ultimate change-maker. IoT functions as one important part of a full, end-to-end hardware, software, network, cloud, and business intelligence solution designed to collect, process and refine data, and then visualise and even automate insights and decision-making. That's where the magic happens!
IoT, and the 4th Industrial Revolution it's enabling, is here, now, and already pushing its way into some industry leaders' minds. Time to get up to speed and start getting a "sense" of what it's all about!
What is IoT exactly?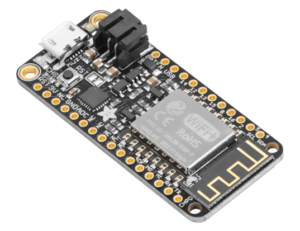 IoT or the "Internet of Things" is exactly that – a network of things, devices and objects that have been embedded with sensors, actuators and data collection technology to enable automated data collection. Once enabled in this way, these "things" or objects then become capable of two-way wireless data collection and transmission over the networks they're connected to, giving controllers access to places, people, and data capture opportunities well beyond the traditional edge of their networks or digital perimeters.
Why are we all talking about IoT now?
A number of enabling factors have come into line over recent years that have transformed IoT from a vision into a real opportunity for businesses. Estimates put the current total number of connected IoT devices worldwide at anywhere between 20-80 billion and peak IoT body in Australia IOTAA predicts that we could be looking at one trillion connected devices globally by 2035!
This surge in connected devices has been driven by some dramatic efficiency and cost gains, including, falling sensor costs, massive boosts in wireless connectivity, chip processor power, cloud data storage and capabilities, and miniaturisation technology.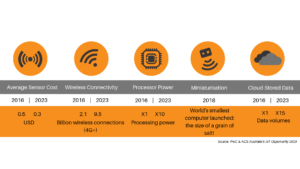 Thanks to the falling cost of data, storage and processing, more and more endpoints, "things" with inbuilt sensors, are coming online, and feeding back to us streams of data, most of which is underutilized.
The potential value that data holds is untapped, and new business intelligence solutions are emerging geared around finding ways of harnessing the value inherent in that data to generate the higher output and productivity that will fuel growth.
What does IoT offer business?  
Today's data and IoT technologies now allow you to centrally capture AND process data in ways that will provide previously unseen and real benefits. All these drops and rivers of data being fed back to your business via IoT can position your organisation to reap the rewards of serious efficiency and productivity gains, reduced down-time, and seamless visibility across your operations in real-time. Think about the potential for using live data to make better, faster decisions on:
Improving process efficiency
Optimizing asset utilization
Improving customer engagement and experience
Developing new products and services
Reducing business risk
Improving brand performance
Increasing employee satisfaction
The applications for IoT are far-reaching from smart meters, to supply chain and manufacturing field devices, process sensors for power generation, real-time location devices for healthcare, solutions for smart buildings and facilities management, autonomous vehicles, and limitless potential in the ag-tech space and for smart cities.
What's more these solutions are being built through partnerships across industries that you wouldn't expect to see working seamlessly together; like the world's biggest names in technology working with remote Tasmanian seafood farmers, and a leading German home appliance manufacturer leading the way in community parking solutions.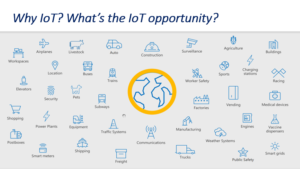 Why do Australian businesses need to start seriously thinking about IoT?
Essentially, Australian industry and business need to innovate to lift our productivity growth and data is going to be the foundational driver for that. We need to better leverage the world's most valuable resource today – data, better transform that data into insights using business intelligence and visualisation tools, and then use those insights to make faster, better decisions we can action. Essentially, we need more, better processed and effectively presented data to make faster, more accurate decisions. And that data is going to originate from sensors built into end-to-end IoT solutions, and lots of them.
And just to put it into a bit of perspective, the IoT sector here in Australia has already moved well beyond smart home appliances and handy smartphone-based applications and into serious, large scale industrial territory. Australia's IoT industry is already worth close to A$19 billion, and if adopted at scale, IoT has the potential to benefit the Australian economy to the tune of A$194-308 billion over the coming decade!
In fact, the latest economic modelling by PwC suggests that implementing end-to-end IoT solutions will generate the much-needed 2% benchmark productivity increase Australian needs across our construction, manufacturing, healthcare, mining and agricultural sectors in particular.
How to get started on an IoT journey
As we see it, there are four phases along the path to a successful IoT project.
Preparation Phase:
Find out what you don't know you don't know! This is the time to seek out new partners that can help you to starting asking the right questions.
Plan big but start small – By defining a problem you are trying to solve (what don't you know that your data might hold the secret to?), and planning out a proof-of-concept project.
Phase 1: Collect & monitor data – Gain real-time insights and improve business efficiency
Phase 2: Analyse & improve data – Optimise asset usage, deliver better customer services and products
Phase 3: Transform & expand solution – Develop new business opportunities, increase profitability and create new business models
And remember, your problem might not be overly complex, but the rewards might be substantial! Sometimes its innovative solutions to age-old problems that have the most effect. The man credited as the "founder" of IoT Kevin Ashton was actually a cosmetics brand manager frustrated that all his stores were constantly sold out of a particular brown lipstick – so he came up with a inventive way to track sales and automate restocking.
Top takeaways!
So now that you know what IoT is and the potential it might hold to drive innovation in your business, here are a few top takeaways to take back to your management team.
You've already got some of what it takes to make IoT really valuable. Our businesses are awash with data, ripe with potential to collect more and surrounded by a myriad of low-cost connected and connectable devices and sensors that have the potential to better influence, inform and direct our business decisions and actions.
It's time to get in the game. Australia is perfectly primed to fast-follow, or may be even come to lead, what others in this space overseas are already doing, especially in the smart cities, manufacturing, agricultural and healthcare sectors. Economic modelling suggests IoT has the potential to generate solid productivity gains across key Australian industry sectors.
You're going to need a serious strategy, and form unexpected alliances, to generate real traction. No one provider can supply a full end-to-end IoT solution. Generating effective outcomes will mean entering into all-new strategic collaborations and partnerships in new places and across unexpected sectors, asking new questions and looking at different solutions.
Chat to Maxsum about the innovation potential IoT might hold for your business. To find out more call 1300 629 786 (MAXSUM) or Contact Us here.