Latest features and hot-off-the-press Teams insights from Microsoft Inspire 2020.
And so we march on…amidst masks, mayhem and endless meetings…
As the gloss wears off our new remote working skills and schedules and we settle in for what looks a bigger than anticipated battle ahead, it's time to start looking at remote working as a much longer term proposition or both ourselves and our teams.
What is clear now is that if we're going to be working this way for longer, then we need to make remote working "work" a whole lot better.
That means
Getting better control over our meeting processes and work rhythms
Looking at the real value in the remote connection and meetings tools we're using to do more through the same platform, AND
Finding more interactive ways to engage and interpret human cues and messages through a digital lens.
We're fresh back from the first-ever fully virtually delivered Microsoft Inspire global partner conference (well…as fresh as you can be engaging virtually on US time for 3 days….), and we've got a host of Microsoft Teams updates that deliver insights into how we might be able to actually get closer to our teams and more productive together….remotely! Check out all the updates below.
---
Teams & Channels
Automate your employee "check-ins" during these uncertain times
If you've got a team working remotely and especially if they're working in Teams all day, why not use Teams to check-in on them and see how they're doing? The special release of some preformatted Forms templates makes it easy to set up automated recurring collection of employee health and wellbeing data.
Go to the Channel for the team members you want to collect data from (Hint: Maybe head straight for your org-wide General channel), go to add a tab to the top of the Channel using the Plus sign, select Microsoft Forms and you will see a new 3rd option available now to Create a workflow to automatically collect responses. Click on one of the preformatted surveys and you'll be guided through the set-up process.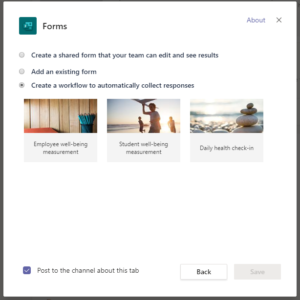 Access notification settings from Activity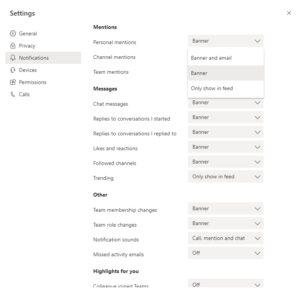 Ever wonder why you seem to get pinged every time Jenny posts in the General channel that we need more milk but you don't get notified when a meeting you're meant to be in has started? Or do you get dinged, flagged and emailed every time anything happens?
With notifications configurable from various places in Teams its easy to lose track of what you've set and then moved on from. Now you can get a view of your high-line notification settings as they stand across your Teams set-up and change them accordingly.
From Activity go to the Settings cog and use the drop-down menus to configure precisely how you want to be notified about what. If you want to deep-dive into all the in and outs of notifications, you can find out more here:  Six things to know about notifications.
And now, bigger teams for…well…bigger teams!
Team size limits have increased from 5,000 to 10,000 members. This makes the possibility of an viable organisation wide team for large or dispersed, global or multinational organisations a genuine reality!
More about Channels + Chats too!
Meet Now in Channels has moved!
The Meet icon in channels has moved from underneath the create a post or reply field and is now located in the top right-hand cover of your screen. From there you can Meet Now or Schedule a Meeting.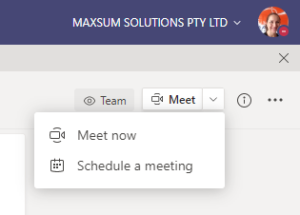 Get a Channel Snapshot!
While we're up in the top-right hand corner in your Channel of choice, head to the Information (i) icon to get a quick overview of your channel info, all the members and the most recent Channel activity.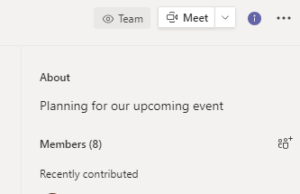 Put a pin in it…and actually come back to it later!
We love being able to pin our favourite chats and channels so they're ready for when we next want to dive back into a thread. Now your most recent conversations, as well as your pinned chats and channels, will stay in place and be available to access and read when working offline too.
Search within a chat or channel
We love the search bar in Teams – that sneaky little power tool hidden in plain sight at the top of the interface. One thing we don't love it how many results it throws up when you need something fast! To solve this you can now conduct a search within a single channel or chat.
Go to a specific chat or channel, press CTRL + F (or Cmd+F for Mac), (F for Find!) then type what you want to search for in the search bar and you'll get search results only from that chat or channel.


And ICYMI – Pop out a chat: Keeping working in Teams with a side of chat!
By clicking on the pop-out chat icon for a particular chat, you can have the chat displayed in a separate window, so you keep moving around Teams and working in your main interface window whilst you keep chatting. Super handy! Double-click a chat in your chat list or use the arrow icon to open a chat in a secondary window. Now, you're free to move about Teams while staying engaged in multiple chat conversations.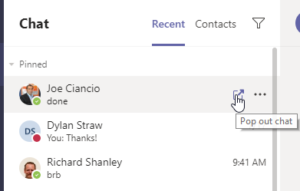 Teams on Mobile Devices
Give yourself some much needed quite time with Quiet Hours
You're working from home – meeting, collaborating, chatting, engaging all day long. You finally log off and close the door to your home office but your mobile is still pinging with chats and @mentions!
To prevent your Teams activity from taking over your down time, go to More hamburger icon in the top left corner of the mobile app and navigate to Notifications > Quiet hours. Turn Quiet hours on and set times and days you want Teams to effectively "hold your calls".
Teams Meetings & Calling
New meeting experiences
Microsoft Teams is gaining some awesome new meeting features that are being rolled out progressively right now. To see if your Teams desktop app is enabled for the new meeting experiences already, go to your profile pic in the top right, go to Settings > General, and if the new experiences are available to you, you will see an option to Turn on new meeting experience. Then restart Teams for the new experiences to take effect. Once this is turned on, here is what you can look forward to!
Make meetings pop! Out that is!
The first thing you will notice in the new experience is that calls and meetings will pop out into their own separate window, so you can keep working and moving around Teams during your meeting.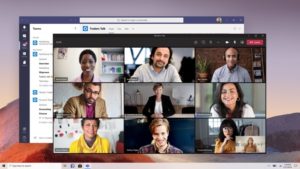 Meeting Controls are always on and have moved on up!
Your meeting control haven't changed but they have moved to the top of the screen, where they will stay always on and out of your video feed view!
The Brady Bunch view expands to the whole crew!
The new meeting experience will progressively provide you with More options to select a Large Gallery view of up to 49 video feeds at once. OR (drum roll please) you can try something completely new and opt for Together Mode, which will place attendees in a virtual auditorium – so much easier to read facial cues and generate some fun engagement!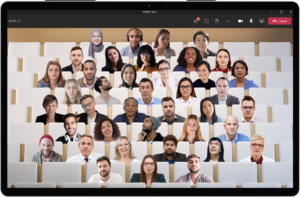 Need to focus on the content not the characters? Here's how!
Focus Mode
What about when you want to focus on the presentation or meeting content without distraction? Now you can – again head to More Options and select Focus mode to cut out the video feeds from your view.
Live captions for meetings
Live Captions is currently a preview feature in Microsoft Teams and available in English. If it's available to you, you can turn it on during a meeting via More Options > Turn on live captions.
Other Inspired Teams Meeting Announcements
In further improvements announced at Microsoft Inspire 2020:
Live captioning will now identify and label the speaker as well to make meetings much easier to follow without audio.
Speaker's video feed boxes will now be highlighted when they are speaking
The Hand-raised icon will pop up on participants video feed views for easier notification to the presenter, and finally…
Coming soon! New on-screen sentiment icons that participants can use to engage and react to comments and contents throughout meetings and presentations.
Easier options for joining Teams Meetings
New prompts to join Teams meetings
When you invite someone to a Teams meeting then get a link to Join Teams Meeting. Now if they are not already a Teams user, the options they are presented with to join are clearer and simpler.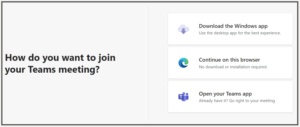 Improvements to joining Teams meetings for Safari

Tried to join a Teams meeting from Safari before and found yourself juggling the audio? Safari users can now rely on their device's built-in speakers and mic instead of relying on Audio Conferencing to access Teams meetings via Safari. Of course, downloading the Teams app or joining via a supported browser will overcome the issue altogether.
---
There you have it for July 2020. We're still digesting all the new and exciting demos and updates presented at Microsoft Inspire so stay tuned for more of what's next and new in Teams as they roll-out over coming months.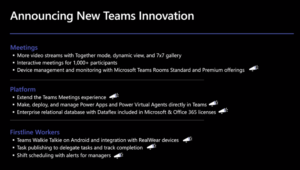 In the meantime, let's talk about how we can assist you to enhance your Microsoft Teams Collaboration, Meetings and Calling. Give us a call today or contact us now for some more demos and insights.
---