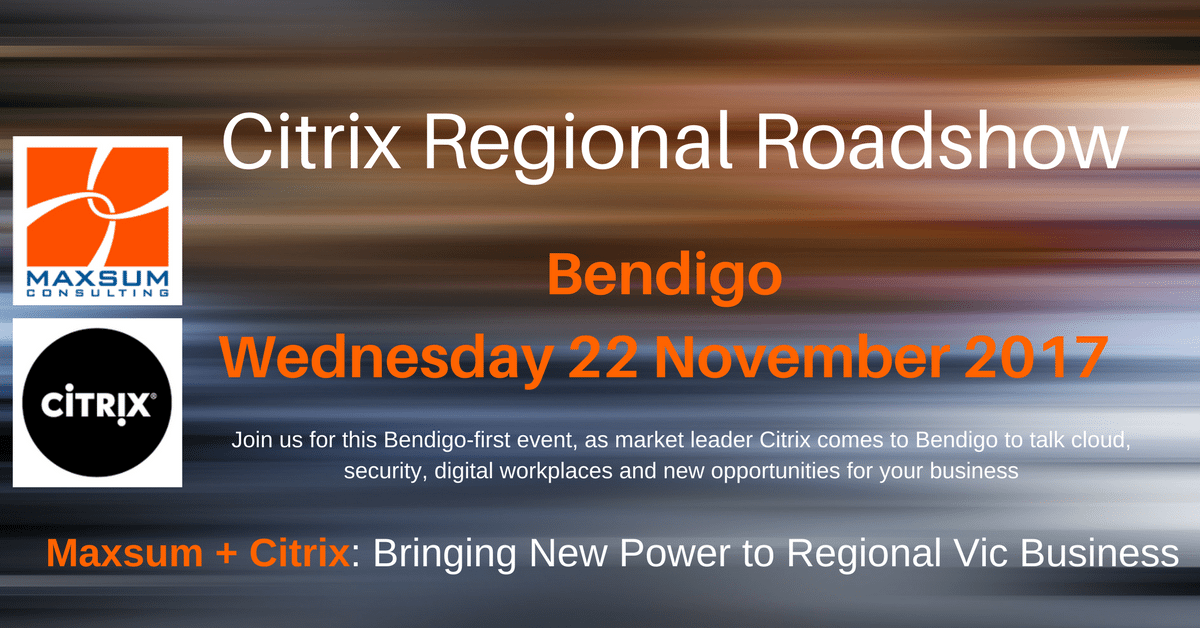 Join Citrix experts at Maxsum HQ for a personal, practical and potentially game-changing overview of how Citrix technology and innovation can support your business going next level.
At our invitation, Jose Soares from Citrix and Marrdy Ly from Dicker Data will be visiting our Bendigo office on
Wednesday November 22
to update businesses in Regional Victoria on the latest technologies Citrix has to offer, and how they can be used to drive Digital Transformation in your organisation. 
At our Citrix Regional Roadshow you will get the inside track on:
How new-generation Citrix offerings are driving digital-era businesses skyward
Secure cloud opportunities and horizons…without all the complexity! 
Market-leader insight into digital workspace solutions
*** Strictly Limited to 10 Places per Session! ***
Sessions will fill fast! Reserve your place now!
---
This is a truly unique and personal opportunity for business and IT leaders in Regional Vic to meet a market leader on home ground.
The Citrix Regional Roadshow event will feature a presentation, demonstration, Q&A session, and an opportunity for networking over lunch.

This is a landmark, Bendigo-first event! Don't miss out!