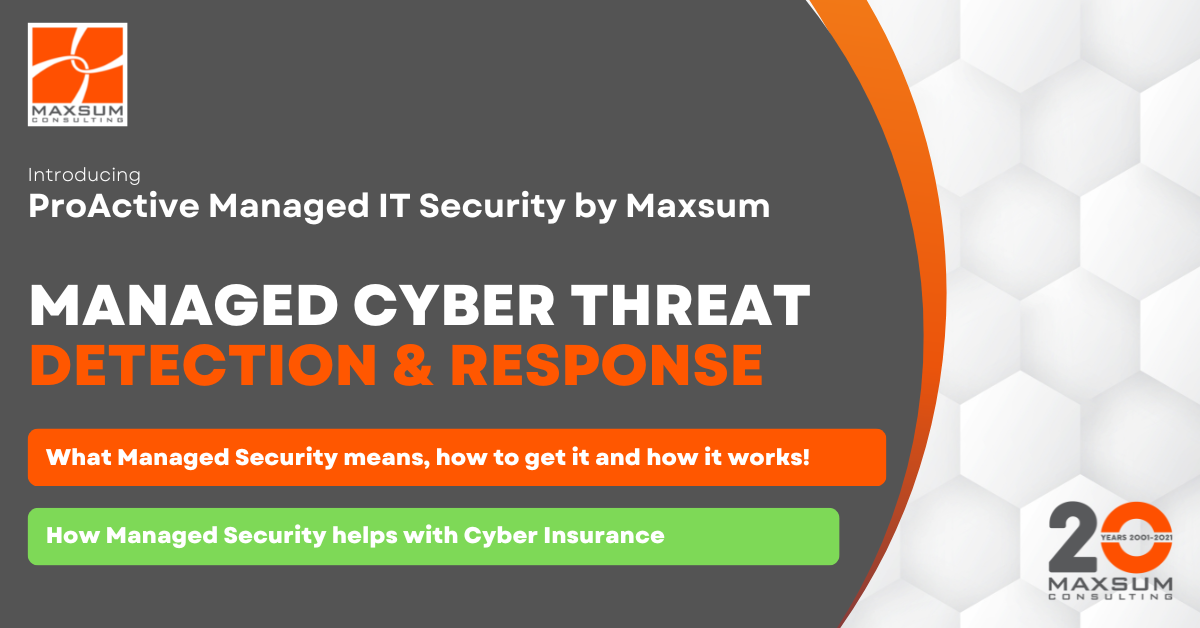 Maxsum Launches Managed IT Security Service
Proactive IT Security that strikes

beyond

the boundaries of managed services alone
For 21 years, Managed IT Services provider Maxsum Consulting has been bringing technology change and innovation to the Regional Victoria business sector.
In a very important and exciting new release, Maxsum is going beyond the boundaries of what Managed IT Support brings to the table with the launch of Central Victoria's first truly proactive Managed IT Security Service.
This top-tier managed security service, featuring Managed Threat Detection and Response, is designed to take you beyond the conventional Protect & Defend approach to IT security by injecting all-new Meet & Defeat capabilities into your environment.
What does the mean? It's all the protections you know and trust already with the addition of powerful automated next-level threat detection, hunting and targeted response. 
---

Maxsum, joined by Jenny Whitby, Senior Underwriter, Cyber for ATC Insurance Solutions explore all things Cyber Insurance.
This webinar sets the scene for important information about out Managed IT Security will help you sure up your cyber insurance coverage so that you can access and claim on the coverage you actually need.


Managed IT Security – Meet & Defeat Active Adversaries Head-On!
Managed IT Support services can only take your security provisions so far…Join us to find out how Managed IT Security, powered by Managed Cyber Threat Detection and Response, can flick the switch on your protections from Defend to Attack mode, allowing you finally to fight fire with fire!
Maxsum's Managed Security Service Team will take a fresh look at the cyber threat landscape in the wake of major Australian data breaches and the rise of nation-state-sponsored attacks.
Then we will dive into how next-level Managed IT Security, and in particular, Managed Threat Detection and Response, is the key to proactively meeting and defeating these active adversaries head on to ensure you can actually and transparently meet your IT security, compliance, regulatory, insurance and reporting requirements.

Read More
Other great Maxsum content you might like to read: