IoT & Fleet Management
How IoT solutions are offering lower-cost, longer-life fleet management opportunities in the mining, manufacturing and logistics sectors.
Come 2020, IoT – The Internet of Things has featured in pretty much every list of "Top 5 emerging technologies for 2020 and beyond" we've seen, especially in mining, manufacturing and industrial sector news.
The talk is big, the promise exciting and the opportunity huge. What's even better is that the technology is already here and there are partners ready to design the solutions industry need. And with the low cost of capital in Australia right now, this is the time, some suggest, for Australia's mining, manufacturing and logistics sectors to make investments in future-fortifying their operations.
So, what's holding our industrial sectors back from investing in the IoT opportunity? Aside from technical skills and capacity issues that require addressing, we see two ways that decision makers in the mining, manufacturing and industrial sectors can and should reframe the way they consider IoT.
1) Develop an "Investor" mindset towards IoT
To embrace and embark on conceptualizing, developing and deploying IoT solutions you'll require somewhat of an investor mindset. Your exact solution or final application might not exist in the market already, and even if it does, there may not yet be ROI data out there you can base your business case on.
Taking the leap will take an understanding that the ROI may be staged, incremental and not immediate. This will see many decision makers in Australia's industrial sector need to step well outside their comfort zone in making future-focused decisions and managing shareholder expectations.
2) Understand what an IoT offering actually delivers
IoT is not just about robots, drones and AI (although all of those things might be part of an end-to-end IoT solution).
There has already been some substantial economic modelling done, including by Microsoft and PwC, that make a powerful case for the Australian industrial sector to jump onboard the IoT revolution right now.
Australia's mining, manufacturing and logistics sectors look to gain substantial uplifts through IoT in the areas of:
• Predictive maintenance and asset, fleet & inventory management
• Human productivity and safety
• System/production/site optimisation and security
In fact, these sectors are amongst a select few that are set to get the biggest bang for their buck out of IoT enablement.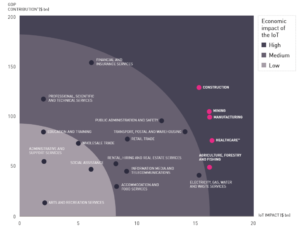 But how will that actually work? We know that the "This will add $xx billion or trillion dollars to the Australian economy" justifications, while exciting, just don't translate to much for the decision maker at the coalface. The concept may be appealing, the benefits seem obvious, but what does a day-to-day use case actually look like?
---
Featured Use Case: The Future of Fleet Management in the Mining, Manufacturing and Logistics Industries
To start unpacking some of those potential use cases, let's start by looking at one of the most common scenarios where IoT is already delivering some real-time cost and equipment savings.
A core aspect of any mining, manufacturing or logistics operation will be fleet management and maintenance. Traditionally vehicle and equipment fleets were managed by logs and spreadsheets and more recently using digital, cloud-based log tools with centralized, perhaps even automated, scheduled maintenance triggers based on kilometers traveled.
Despite these advances, however, fleet and asset managers still find themselves manually tracking vehicles and equipment over large distances and either manually entering or updating, or at least reconciling data to keep their fleet at operating peak.
What IoT now brings to the field literally wipes away the notion of "scheduled" maintenance based on kilometers traveled.
In at IoT-based fleet management solution, low-cost IoT sensors are deployed across the fleet, feeding continuous data and status updates back to the control center, where that data is automatically collected and reported.
Based on a pre-determined set of parameters, if an engine alarm, for example, is flagged at the control center, vehicles can be recalled for urgent maintenance. This prevents otherwise functional vehicles from being pulled out of service unnecessarily, and allows the immediate resolution of issues that would otherwise potentially go unresolved until the next "scheduled" service date.
Beyond that, other applications include being able to track fleet location and utilization rates – how long fleet equipment is offline or idle at particular sites or locations that could be more efficiently deployed elsewhere. That data might even inform fleet optimization decisions.
These kinds of data insights might allow a smaller, more efficiently monitored, deployed and maintained fleet. The flow-on benefits are now more obvious to the operation in the form of:
• Reduced capital investment
• Lower operating costs
• Less unnecessary maintenance
• Less "idle" or "off-road" time
• Less fuel consumption overall
Layering up the benefits
IoT solutions for fleet maintenance though are not just about keeping the fleet running at peak. Other important use cases are also emerging to improve business processes, compliance, tracking and even environmental responsibility.
Using a combination of IoT sensors on vehicles and geofencing capabilities to set virtual boundaries using GPS means that operations can more efficiently collect and report on the complex data required to claim fuel-tax credits. That data will also be fully audit-ready with the parameters for collection and reporting preset.
Did you know? CITIC Pacific Mining was one of the first APAC mining companies to utilize sensor-based vehicle insights to automate the claiming of fuel-tax rebates. This yielded a 200% return on investment for CITIC in just a few months through the automated claiming of tax credits alone.
Think also about tracking vehicle maintenance needs and fleet health not only by geographic location but also by weather or environmental conditions, and being able to concentrate predictive maintenance resources in areas where environmental or weather conditions are known to cause faster fleet disruptions or degradation?
Did you know? General Motors uses sensor-based humidity monitoring where vehicles are being painted. If conditions are unfavorable the paint won't stick so the vehicle or part are moved elsewhere or ventilation adjusted.
And fast forwarding to a net-zero emissions future…thinking of the monitoring and reporting gains of being able to track and report on emission reductions or environmental targets alongside optimized fleet management?
Did you know? AutoDesk Fusion Connect's sensor solution provides data on internal sensor feedback on vehicles to assist operations to comply with noise and vibration regulations.
The future is IoT is…now!
One of our favourite quotes at Maxsum is an oldy but a goody from Bill Gates.

Start by having a simple conversation with our IoT team today about how IoT might deliver untold efficiencies and cost savings across your operations. Contact us here or call 1300 629 786.
---