Microsoft Teams Master Tips
Latest Microsoft Teams features update: Fast track your progress from Teams Player to Teams Master!
Microsoft Teams is now the collaboration platform of choice for over 20 million daily users worldwide, and new features are coming online all the time.
Make sure you're on the front foot and using Teams to its maximum potential by understanding how the latest features might add to your work experience in Teams.
Here's a wrap-up of the hot-ticket features added over Nov 2019 – Jan 2020 that you'll want to try out sooner rather than later.
Want to know more or see a demo? Contact us here or give us a call on 1300 629 786 anytime.
---
Teams & Channels
At long last! You can now make private Channels!
You asked for it, and Microsoft listened. Now when you add a channel, you have the option to make it either Public or Private. Public channels include ALL Team members and the posts and files in these Public Channels are visible to all members, where as Private channels are set up with a select subset of the Team membership, and only those select people can view the posts and files that live in a Private Channel. Be careful though – there's no switching Public to Private or vice versa after the fact, so get your settings right the first time!
Find out more here.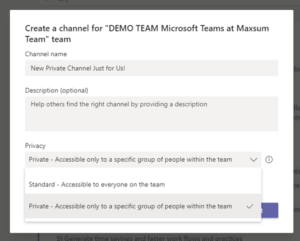 Do things look a little different?
If you've been using Teams for a while you might have noticed that the interface looks a bit different. The size of the Teams workspace has been increased and tab placement has been optimised for more space too.
You might also notice that the Conversations Tab in the top banner of your channels has been rebadged as Posts. Your Chats are still in Chats, of course, but Conversations in Channels are now shown under the Posts tab.
Pin your fave Channels to the top too!
In lots of Teams and Channels? You can now select More options   > Pin to Pin your favourite channels to the top of the Teams list for fast and easy access now too.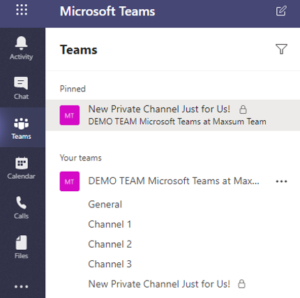 Make your Focus time count
 MyAnalytics has been paired up with Microsoft Teams, so that when you schedule in Focus time using the MyAnalytics Outlook Add-in, Teams will automatically set your presence to Do No Disturb. Your notifications will be muted and delayed until your Focus time ends.
Find out more about using MyAnalytics to better manage your on and off time here.
Chats, Conversations and Posts
Spread the word more easily
Got a message or announcement that you need to share across multiple Teams? Well now you can post the same message in multiple channels. When you go to start your Post, open the Format icon under the message box and select Post in multiple channels to send your message further afield.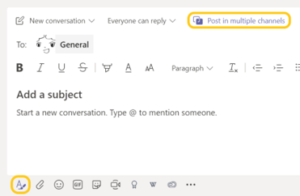 Get back to (chat) business faster!
Chats and chat groups will now appear in your Chats listing for 6 months, right there in the feed ready for you to dive back into when you're ready. Especially handy if you've been on leave. You won't have to search for a chat you need to follow up on.
Read receipts for all
Read receipts for messages are now on by default. You see a little purple eye next to your message to signify it's been read. Admins can elect to turn off this feature organisation wide if desired. Find out more here.
Files
Make edits fast!
Now when you click on a file in Teams, you'll notice it will automatically open for editing in Teams. You can still access the Edit in Browser or Edit in Desktop App options on the top right of the screen.
Meetings
Give everyone a job to do!
You can now assign "roles" to meeting attendees: Organiser, Presenter or Attendee. All participants can see who's who but organisers and presenters have more capabilities in the meeting. Find out more here.
Microsoft Whiteboard for Teams
Make your online meetings more in-person than ever before! Now, Teams meeting participants can share, view and write on a shared digital whiteboard during the meeting. Find out how it works here.
See more of what's coming online right now and next for Microsoft Teams here.
---