You've got 1440 minutes to make the most of each day! Are you using your's to your best advantage?
Find out how you can use MyAnalytics personal analytics to manage your time better and take a healthier approach to work!
Cloud, wi-fi, mobile devices, online collaboration tools – it's literally never been as quick and easy to log in and work from anywhere as it is in 2020. And whether you see this as a modern-technology perk or pain in the bum, our increasingly busy schedules mean that we are reliant on this immediate, flexible access to keep our work lives moving and maximise our 1440 minutes of every day!
But being busy doesn't necessarily correlate to being productive. When does convenience tip over into counterproductive? How do you know when to draw the line and switch off? And, how the heck do you even measure that? (After all, you can't manage what you can't measure, can you?)
How can you up your productivity levels but also start taking back some control of how you use your time? As with everything, awareness is 99% of the battle. So, let's take a look at how MyAnalytics, Microsoft's personal productivity analytics tool, might be able to help! And the best news is – it's already built into a key technology tool you use every day!
But first! Work-life integration – Weighing up the wins and losses
Some studies do support the "always on" ultimate flexibility of mobile work. One study actually reported that 86% of employees say they're more productive when they're working alone from home.
But on the flip side, the research also tells us that we don't always use this flexibility to our own advantage. Instead, we just end up working longer and trying to squeeze more in! A whopping 94% of service professionals put in 50+ hours a week, and knowledge workers in particular reportedly check their email or collaboration tools (like Microsoft Teams) every 6 minutes! Certainly, doesn't sound like much distraction-free worktime is happening!
One thing the experts do agree on, however, is that once our working hours and practices exceed certain healthy thresholds, we're more likely to suffer a whole host of undesirable side effects. We're talking:
disturbed sleeping patterns
elevated stress levels
deteriorating communication skills
problems executing even simple tasks
relationships issues
other health problems associated with a sedentary lifestyle.
What is MyAnalytics and what does it do?
MyAnalytics is an app available within the Microsoft Office 365 suite that observes your work time, contacts, connections and meetings as interrelated and measures how you are balancing your focus, wellbeing, networking and collaboration time on an individual and team level.
MyAnalytics provides some powerful focus and wellbeing metrics on:
how many hours you typically spend in meetings, collaborating or exchanging emails,
how much focus time you've had to complete tasks
how often you've worked outside regular office hours
how often you interrupt your "quiet hours" and "quiet days" with unscheduled work. (We love this one!)
(Quiet days are days when you don't send or read emails, attend meetings, take calls, or send chats outside of your workday.)
Essentially, you get a bird's eye view of how you spend your work time, who you spend it with, how much concentrated focus time you've had, and how often you've ended up disrupting your quiet times.
It also offers AI-powered suggestions based on your work patterns, including how quickly and when your calendar is likely to fill up, so you can pre-emptively book in some focus time.
In the networking and collaboration fields, MyAnalytics has some other great features where it works across the other O365 apps to pull together insights into how and when you interact with your colleagues, your typical response times and more. This can identify relationships that may need attention and allows you to see more about recurring interactions you have across functions or teams.
By identifying some recurring patterns in your work week in this way, you can actually set yourself some goals to work on maintaining a healthier approach to work.
We tried it! Here are just a few things we learnt!
So, we've been giving this a whirl, and here are some insights some of our team uncovered.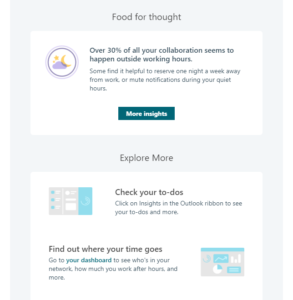 One team member routinely racked up 30% of their team collaboration time OUTSIDE working hours.
One team member achieved NO quiet days over a 4-week period.
One management team member registered sub-1-hour response times to emails and chats from all other managers…. except one – what's going on here?
One team member only manages a maximum of 25% focus time available in a week, and historical data shows their calendar fills by Thursday the week before, meaning they need to carve out some focus time proactively before their calendar fills up.
Interesting? We thought so too!
Want to know more? Well here's a quick list of MyAnalytics FAQs!
How can I access MyAnalytics?
Provided your Office 365 licensing plan includes MyAnalytics, you can access the MyAnalytics app through your Office 365 login.
You'll find the MyAnalytics app in the waffle menu, click on it, adjust your settings and away you go!

There are some Outlook Add-in options as well. You can read more about how to access those here.
You can view your results through the MyAnalytics dashboard in the app, and as a MyAnalytics user you'll also receive a weekly email summary that unpacks your work patterns for you and offers suggestions for improvement.
How does MyAnalytics work?
Every calculation performed by the app is based on data that you yourself already have access to and could get by extracting the metadata of your email, meetings, calls and instant messages. But who has the time?
Essentially, MyAnalytics just pulls all that data from different sources together and presents it in a way you can actually interpret and take action on!
What data does MyAnalytics access?
MyAnalytics pulls metadata from Outlook such as timestamps, key statements from the body of text and user information like sender and recipient details, "read" signals and whether or not someone has opened it to provide insights to users.
For Calendar items, the meeting type, availability status, category, subject, duration and attendees are accessed.
Audio and video calls, chats, OneDrive and SharePoint data are also counted.
What does this mean for the privacy of my data?
MyAnalytics relies on data stored in your mailbox and calendar, and is protected in the same way your email and calendar information are protected. The MyAnalytics metrics made available are relevant and available to you and you alone.
Ready to take a fresh look at how you work and use your time with MyAnalytics?
View this 15-Minute Microsoft Sway introduction to MyAnalytics.
Then Contact Maxsum today on 1300 629 786 about Office 365 and the awesome range of tools you may not be using… but should be!
---