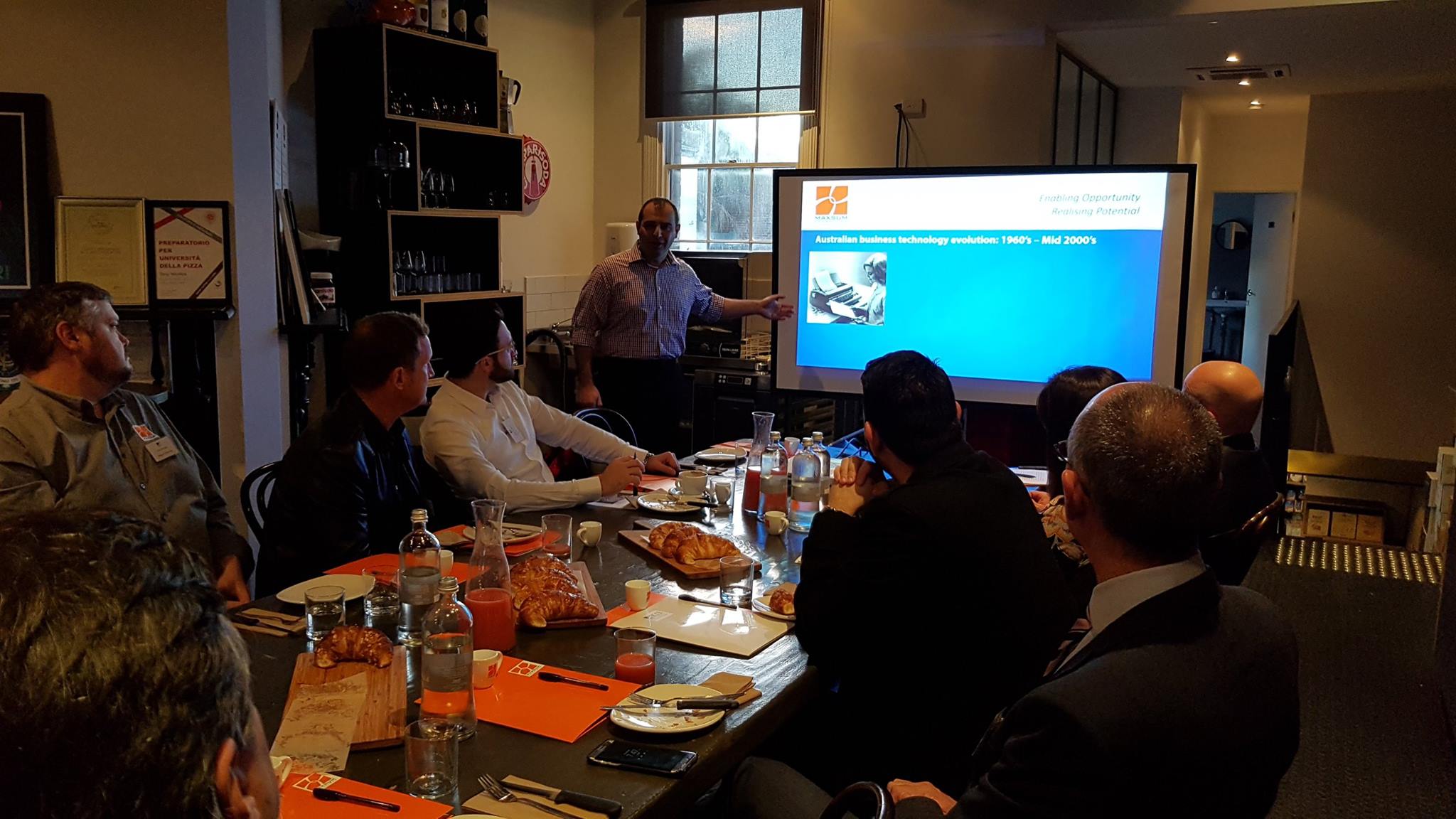 Maxsum's Joe Ciancio was thrilled to lead a lively discussion at the Italian Chamber of Commerce and Industry Breakfast Networking Session on June 29 in Carlton Melbourne.
Building a digital transformation strategy is not for the faint-hearted, so lucky there was some good strong coffee on offer for the early-morning session!
Maxsum Director Joe Ciancio stepped the attendees through an engaging presentation that framed today's hot topic of digital transformation firstly from an historical context. Talking about the transformative technologies of decades past, Joe described how the sheer pace of change today and its exponential potential to have far-reaching impacts on our businesses are driving the push for businesses to transform right now.
Joe described the key ways that a digital transformation strategy can drive business outcomes for the future; using business technology as the foundation of a strategic plan to engage your customers, empower your employees, transform your products, and optimize your operations. In order to realize these four objectives through technology in an ongoing and sustainable way, he talked about the need for greater alignment between technology advocates and decision makers within the business and across the business at large. He then demonstrated that strategic partnerships and the connections and intelligence they bring to your strategy will be pivotal in empowering the relationship between your business and your customers to keep pace with the digital economy.
He concluded the session by citing a couple of case studies of two companies' failed and successful attempts to digitally transform their businesses through their ill-fated and coordinated strategy approaches respectively. Definitely some food for thought and an opportunity for those in the room to think about what their approach to business technology strategy looks like right now.
Maxsum would like to thank Vincenzo Esposito from the Italian Chamber of Commerce and Industry, Melbourne for his invitation to speak at this forum, and Chris Pezzimenti from One Step Out for his insights and contributions as well.
If you would like more information about Joe's presentation or to talk to Maxsum about your business technology strategy, email us today at [email protected].
Read Maxsum Blog: Digital Disruption – 6 Steps to Getting Ready Right Now!
Plus, come along to Maxsum's next event: