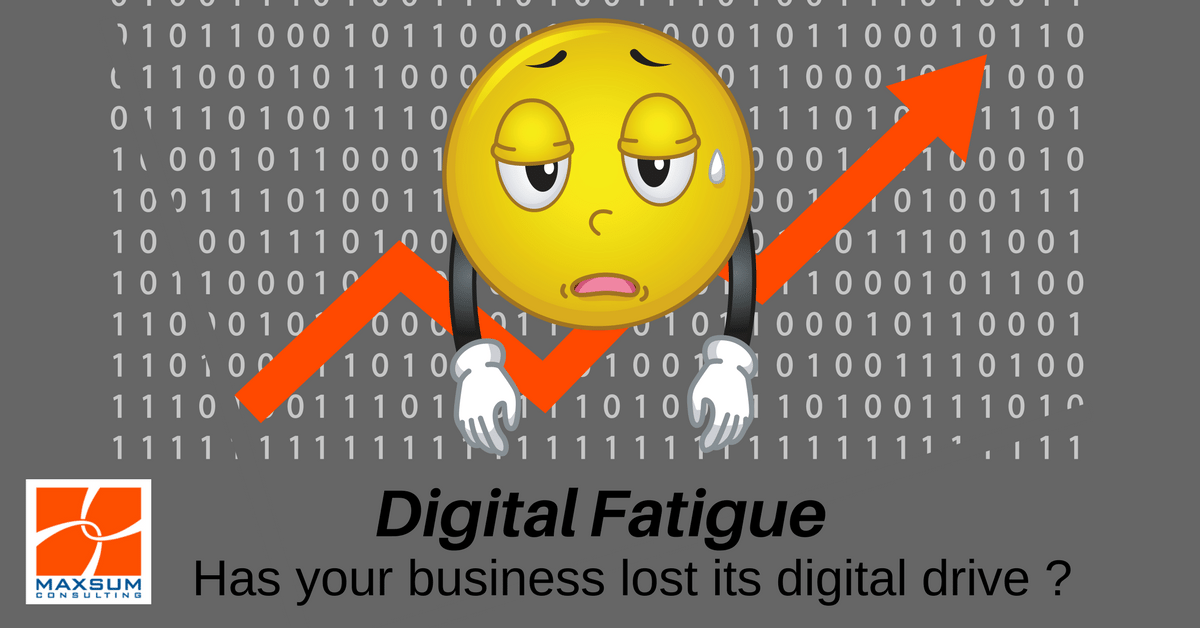 Digital Fatigue – Has your business lost its digital drive?
What is Digital Fatigue and how do I get my organisation over it?
For many Small to Medium sized Enterprises (SME) Digital Fatigue has set in over the last 12-18 months. Business decision makers have been besieged by the relentless "do or die", "eat or be eaten" digital disruption message. But digital disruption is no longer big news.
Most executives and decision makers would by now be aware (we hope!) that many sectors of our economy have already been remodeled for the digital age (think Fintech, AI in customer service, and automation in sales & marketing …). At the very least, we would hope that the digital transformation message has hit its mark and that business leaders are casting a constantly keen eye out over what's really happening across their sector and adjacent to it, what their customers really want, and how the power, potential and urgency of digital might benefit…or block… their business.
But let's be honest. All this talk about digital transformation – sometimes it feels exhausting! After all, many a typical SME still grapples with implementing and utilising business technology for day-to-day, line-of-business tasks, enhanced security, and workforce mobility.
The transformative, growth minded business leader who has a digital vision and an eye on all that is bright and shiny in the business technology world often enthusiastically turns their focus back to their organisation only to encounter:
Resistance
A spaghetti bowl of messy early cloud and legacy systems and processes
Lack of collaboration across teams
Poor file management and security breaches
Inefficiencies and lack of process
Staff resistance to change or direction
A board or management team lacking an appetite for technology or digital skills
Sound familiar? Feel exhausted just reading that list? That overwhelming feeling associated with the sheer enormity of what it takes to be the digital champion of an organisation's transformation and survival is today part of what stops an organisation's digital drive in its tracks. There's a name for it – Digital Fatigue, formerly known as the "too hard basket".
How to Fight Digital Fatigue and Get Your Business Back on Track
What can the technology advocate do to reinvigorate their organisation's digital push?
Break digital down into byte-sized pieces
Get some quality, strategic advice on what the steps are to achieving digital transformation. The question to ask is not what new technology you should be implementing to "go digital", but rather what do you want your organisation to be able to do or offer in the end, and work back from there. Taking a strategic approach will involve breaking down the end goal into concrete achievable steps, each of which will generate an incremental business or operational improvement along the way. This will help to keep momentum and appetite for positive change alive, bearing in mind that the end goal might keep moving too!
Enable the team to "experience" new technologies
Introduce your decision makers to new technology every quarter. Set some time to bring an expert in from outside your organisation or attend technology events to brief executive members on new technologies or developments of the moment. Get your team to give feedback, ideas and even give it a go in a controlled setting and think about the possibilities and problems for your business. You don't have to have an immediate view to implementing or adopting these technologies, but enabling this kind of regular interaction as part of your organisation's culture will build your team's appetite and interest in new technologies and also subtly help to build the tech-savviness of the team.
Re-examine your cloud strategy
The cloud options available to organisations have come a long way and are just getting bigger, better and more refined every day. Just because you've migrated to Office365 doesn't mean that you've "gone cloud". If your business is still struggling with managing and balancing workloads between cloud and on-prem environments, then you need to be revisiting your hybrid cloud strategy, and be looking at more strategic solutions for accessing and securing your resources. There is no one-size fits all with cloud, but a better, more future-focused solution can resolve user frustration…and digital fatigue!
Manage change effectively
Five words: Training is not change management!  When you implement new business technology or change an organisation's strategic focus as part of a digital transformation initiative, robust and comprehensive change management is critical. The strategy behind the change needs to be well defined AND communicated, as well as why and how each stage of the process en route will get the organisation closer to its goal. Change management involving new business technology is not a set-and-forget function. Work together with a trusted partner who can assist your team with planning and engagement at each stage of the process so your team can see the end goal and doesn't just feel like they've been handed a life jacket and pushed overboard.
Ask some hard questions about workplace culture and wellbeing
Your organisation and your people have to be up for the digital challenge, professionally, physically and mentally. If your business leaders are suffering under the weight of digital fatigue, then there's probably a sense of resignation across the organisation as a whole. A lot of this might come down to the lack of an innovation culture, and a lack of confidence around experimentation and risk. Part of charting your organisation's strategy for achieving digital business outcomes should also involve planning for how business technology tools can be used to better support and measure team collaboration, communication and wellbeing initiatives within the organisation to foster a positive and engaged workplace environment.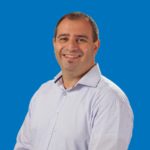 How we can help?
We provide a consulting-led approach to your business technology strategy – making sure you've got the right resources in the right places. If you are suffering from digital fatigue and need help to navigating the complex maze of technologies involved in running your business, call us today on 1300 MAXSUM or shoot us a message on [email protected].
Is Your Digital vs. Dollars Battle Torpedoing Your Growth?
Why CFO and CIO collaboration is critical to achieving digital transformation outcomes. IT-business alignment is the aim, the outcome and the holy grail of digital transformation initiatives in businesses the world over. A few years into business' collective digital transformation journey, we are starting to…
Can the SME Hold Off the Online Giant ?
Amazon in Australia, the SME and How Business Technology Can Help! It's a household name across the English-speaking world and beyond – Amazon; and unless you've been living in a remote island paradise for the last 18 months, you'd be aware that it's coming our…
5 Questions Your "IT Dept" Need To Ask You!
If your IT partner is not asking YOU the right questions about your business, find one that will! I might be wrong…but I suspect many of you out there know that your business is not digital-ready, agile or coordinated enough to beat out your…