Leverage the takeaways from Maxsum's Digital Transformation or Bust! event as your guide to digital transformation!
Proudly hosted by Maxsum Consulting, supported by Bendigo Small Business Festival and BeBendigo and presented by Joe Ciancio, Maxsum Consulting and Alistair Stratford, Microsoft.
Maxsum was proud to host the first event of 2018 Bendigo Small Business Festival season on August 1 at the Capital Theatre. We took attendees on a journey through the hope and the hype behind digital transformation and gave businesses in attendance some insight into the essential ingredients in any successful digital transformation or change project.
The digital transformation vision
Joining us from Microsoft, Territory Channel Manager, Alistair Stratford gave an insight into Microsoft's baseline view of what digital transformation really means to businesses. He reinforced that embarking on a digital transformation journey is not about your level of technical expertise or what flashy hardware you might have. Digital transformation is most simply all about:
how you engage your customers;
how you empower your employees;
how you optimise your operations; and
how you transform your products.
Digital change projects in the real world
Maxsum's Managing Director Joe Ciancio then sought to expand on what this translates to in the real world. Joe touched on what the market is saying:
75% of business leaders say their business sectors will be transformed in the next 5 Years​
52% of people believe their businesses will not exist in the current form in 5 Years​, with
89% of businesses have embarked on some form of digital transformation journey (Source: Fujitsu)
Yet the pressure many businesses are feeling to disrupt or be disrupted has fueled what many are now referring to as a VUCA (Volatile, Uncertain, Complex and Ambiguous) business environment. The driver is not only to optimise functionality but also, to stay relevant in a highly adaptive and technologically complex business environment.
In fact, Joe highlighted, in the race to "get it done":
25% of technology projects fail outright
70% of change programs fail
84% of companies fail at digital transformation (Source: Forbes)
Why do so many IT change projects fail?
Digital transformation is more than just the process of digitising data and processes – much more! In the quest for achieving a quick win there are two consistently overlooked pieces of the digital puzzle.
An overriding commitment to setting and following a long-term roadmap or strategy and
Building and supporting a culture that will ensure your change project can deliver real outcomes.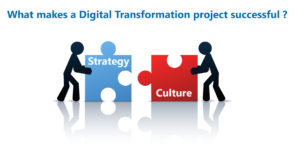 Though the pressure to digitally transform is immense, having a well architected strategic plan is even more vital, and a culture to support and sustain your efforts simply indispensable.
As Joe Ciancio explained: "After all, if you decided to build a house would you just go out and buy a bunch of bricks and start building without an architect?"
The ideal digital transformation model has both strategic and cultural elements, addresses both internal and external​ factors, involves inbound and outbound​-focused activities, involves changes to products & services​, and must be coordinated across all areas of business.
The technology bedrocks
But what of the technology? What do businesses need to implement and how? There are four pillars in the essential digital transformation technology stack that should be addressed in your strategy and used to support, grow and sustain your culture: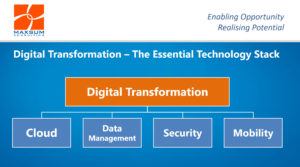 Ready to make a start? Well start here!
The difference between a business undertaking a successful digital transformation or going bust will rest on:
Creating a culture of change (and fostering a change mindset in smaller orgs)
Engaging the right expert partners
Building out a strategy
Using cloud, executing with security-first and workplace mobility in mind
Extracting actionable information from data
With the overriding aim being not just to achieve "a quick win" but to:
Increase business efficiency, productivity and profitability
Increase customer loyalty and satisfaction
---

Get on the right track with Maxsum's Digital Transformation Strategy Worksheet [Click to access PDF Version]
---
Then it all just starts with a simple conversation about who you are and what you want to achieve!
Contact us here or give us a call on 1300 MAXSUM today to uncover more about how to:
Get strategic about your digital future;
Build a culture of digital change readiness in your org, and
Take your digital transformation project from pipe-dream to reality!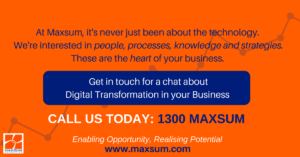 Read on for more great Maxsum articles about digital transformation:
The Need for Speed: The missing ingredient in digital transformation success | Start Small with Big Data to Drive Customer Experience | Digital Disruption: 6 steps to getting ready right now!