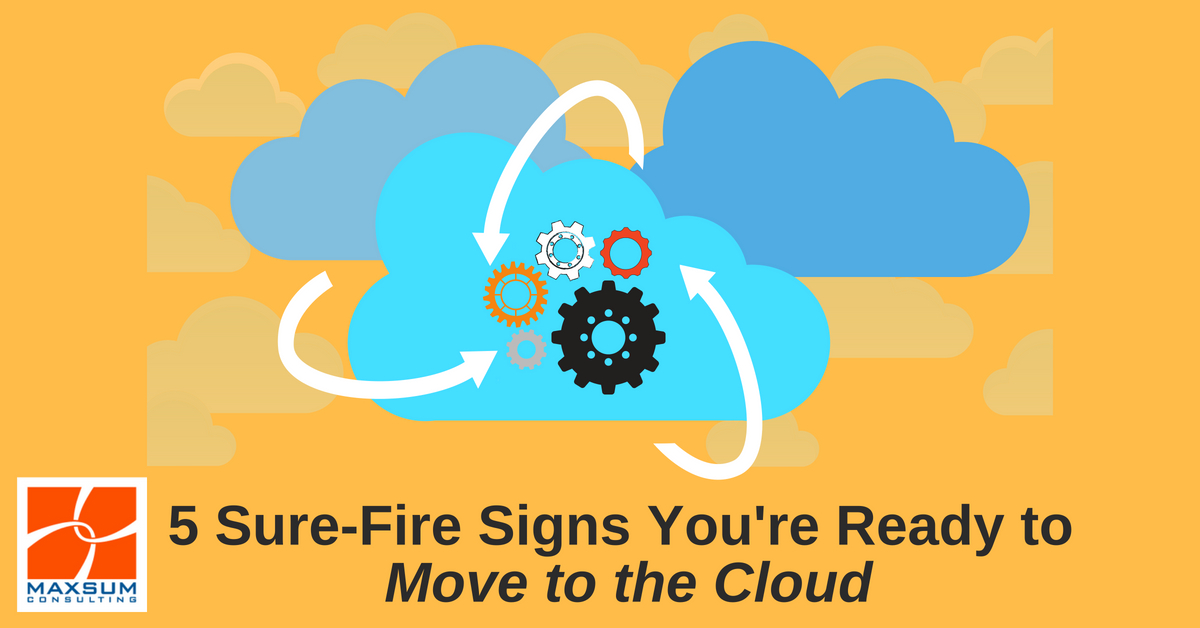 5 Sure-Fire Signs You're Ready to Move to the Cloud
When is the right time for your business to move to the cloud?
Timing is everything, as they say…Until you're too late! If moving all or part of your workloads to the cloud has been on your mind for a while, here are the 5 tell-tale signs that it time to move to the cloud!
It's time to bid Adios! to your server and on-prem ways if…
1. Your systems are starting to feel outdated and all a bit too hard…
If your server systems or software are more than 5 years old, it's no wonder things are starting to feel less than optimal. The general expected lifespan of any server is around 3-5 years, but aging hardware is not the only issue. As your server software ages, supporting and servicing the server hardware gets much more complicated – think square peg, round hole! This is even more complicated if you are dealing with multiple issues across more than one on-site server.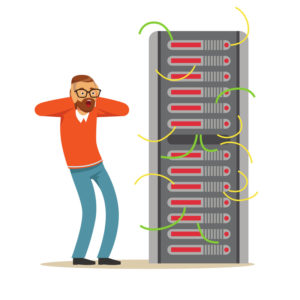 If you're starting to struggle to do what you want with your on-site IT infrastructure, or things are feeling too slow, too messy or too complicated then it might be time to look at what you can move to the cloud. Talk to us about whether you need to think about breaking up with your server altogether, or the advantages a hybrid cloud solution will offer your organisation.
2. You're spending more and more money on repairing, maintaining or upgrading your IT infrastructure…
How much longer can you really keep squeezing the last bits of life out of your server or other equipment? The bigger question though is whether you want to turn your business technology costs into an investment. Remember when your parents told you that paying rent was "dead money" when you could by building an asset by paying that money off a house? Same deal: paying hand over fist for technicians to nurse your old systems along is a cost that you will never recoup.
The subscription-based model of cloud services means that making the investment to move to the cloud will, over the longer term, reduce ad-hoc maintenance time, costs and downtime. Plus, you'll only pay for additional resources and services as you scale up, making your IT investment even more manageable over time.
When you move to the cloud you are effectively outsourcing your IT infrastructure management and maintenance to a powerful partnership between your managed service provider like Maxsum and our cloud partners. This arrangement delivers the best-in-class global cloud platforms and services into your organisation, as well as updates and new features as they come to market, only making your investment more valuable over time, not less!
3. You're losing sleep over your IT security…
Been reading a bit lately about cybersecurity, disaster recovery planning and the effects of a data breach on businesses?  Wondering how your business would survive if you were locked out of your systems by a ransomware attack, lost all your data by cyberattack, data breach or theft, or needed to work offsite after a fire or power outage? Having the right cloud-based back-up solution in place coupled with cloud's load-sharing design means that the threat of server-interrupting events will no longer keep you awake at night!
What about the myth though that cloud is less secure? It's exactly that –  a myth! In reality, no technology, system, business or device today can ever be 110% guaranteed secure. Today's cyber threat landscape is simply too extensive and nebulous. In moving to cloud-based platforms, however, you are literally adding into your team the latest and best security knowledge, expertise, updates and automation on offer from the world's leading vendors who literally have teams and teams of resources monitoring and managing the threat landscape proactively around the clock. Surely that's the basket you want your eggs in.
4. You've got big growth plans, but not the budget!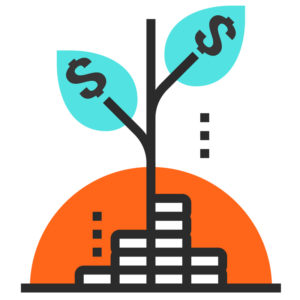 We know that there are lots of competing forces fighting for a slice of your business' budget. Traditionally, business' IT spend has focused on what they need at a point in time, leaving them with no option but to throw more money on the table when they wanted to expand. Having been burnt this way before, many organisations now focus more strategically on building out a business technology roadmap so that their "today" spend has the capacity to accommodate their "tomorrow" needs.
Even so, growing your business means new people, technologies, tools, infrastructure, software, and even new sites or offices. If your business is on an upward growth trajectory, leveraging the cloud gives you the flexibility to scale your IT infrastructure up and down as your needs change. Working from remote locations or several sites, your team will also be able to work more flexibly, securely and productively in a cloud-based environment.
5. You're under pressure from your team to provide a modern workplace experience …
Have you got:
People who are out of the office a lot, working remotely, and working from home, and don't have or can't access, much less sync, what they need quickly and securely?
A team that needs to collaborate, but are saying they don't have the right tools?
People saying their email inbox is overloaded and things are getting missed?
A millennial team member who has just skyped their boyfriend backpacking through South America on their mobile but now has to travel two hours away to meet a client in person, armed with a stack of paperwork they need for the meeting?
Do you know how your team is getting around these problems? Scratch the surface and many business owners are surprised to find many of their employees have literally gone rogue and started downloading and using their choice of cloud apps and services to do what your systems won't let them do. Without you realising it, these users have introduced what we call Shadow IT into your business, opening you up to serious security risks and process and compliance failings. Continuing to ignore shadow IT is basically equivalent to sanctioning its use through inaction.
Find out what your team needs and explore what cloud-based options there are that will lift your whole organisation up into a different layer of collaboration, and modernise your workplace experience.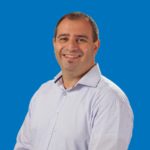 Ready to say "Out with the old and in with the cloud"?
If you've got one, two or all five of these issues on the go, let's talk about what your cloud options are. But going to the cloud is not a one-size-fits-all journey. To ensure a best fit from the start, get in touch or call us on 1300 MAXSUM. We'll grab a coffee and chat about your aging server, the benefits cloud and everything in between.
Want to read more like this?
5 Office 365 collaboration tools you're not using…but should be!

-

When we talk about leveraging technology to boost productivity in organisations we talk a lot about embracing the benefits of cloud, adopting more flexible ways of working, and mapping out better processes to support your new digital-age modern workplace. Microsoft Office 365 collaboration tools often play a central role in the cloud strategy for small to medium sized businesses and its important that you get the most out of your technology.

Is Your "Digital Perimeter" Ready for a Mobile Workforce?

-

Where do you think your business starts and finishes? Reception? The back door? Car park? Bus ride home? Airport lounge? Kindergarten pick-up? Friday drinks? Have you ever thought about how and where your business is really being conducted out in the wider world

Digital Fatigue – Has your business lost its digital drive?

-

For many Small to Medium sized Enterprises (SME) Digital Fatigue has set in over the last 12-18 months. Business decision makers have been besieged by the relentless "do or die", "eat or be eaten" digital disruption message. But digital disruption is no longer big news.