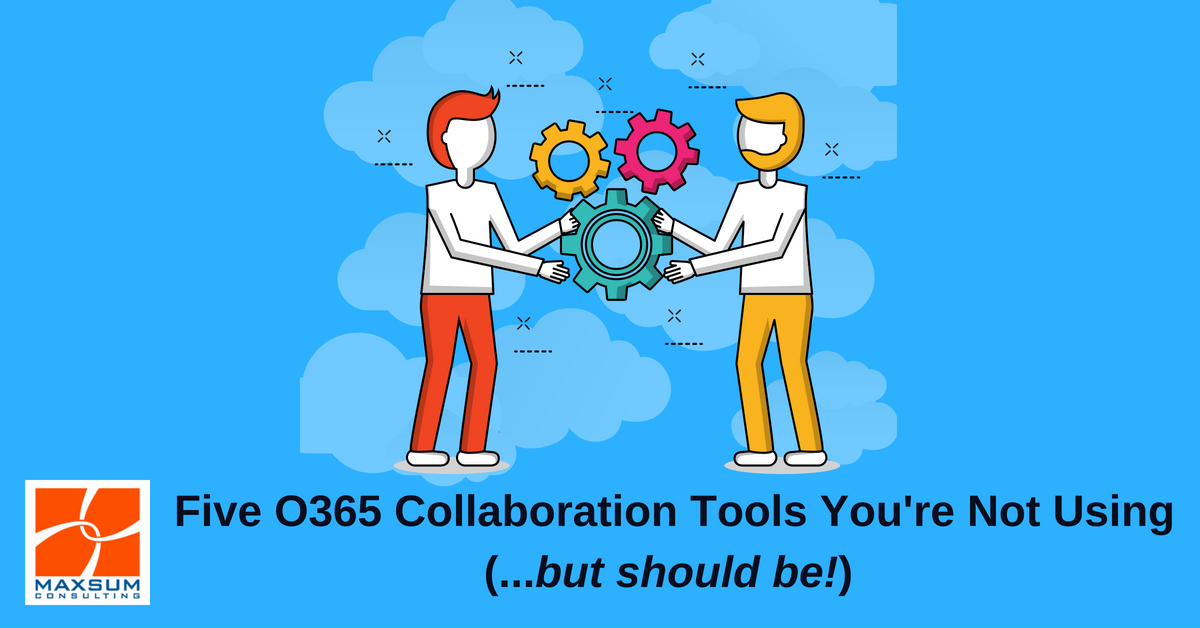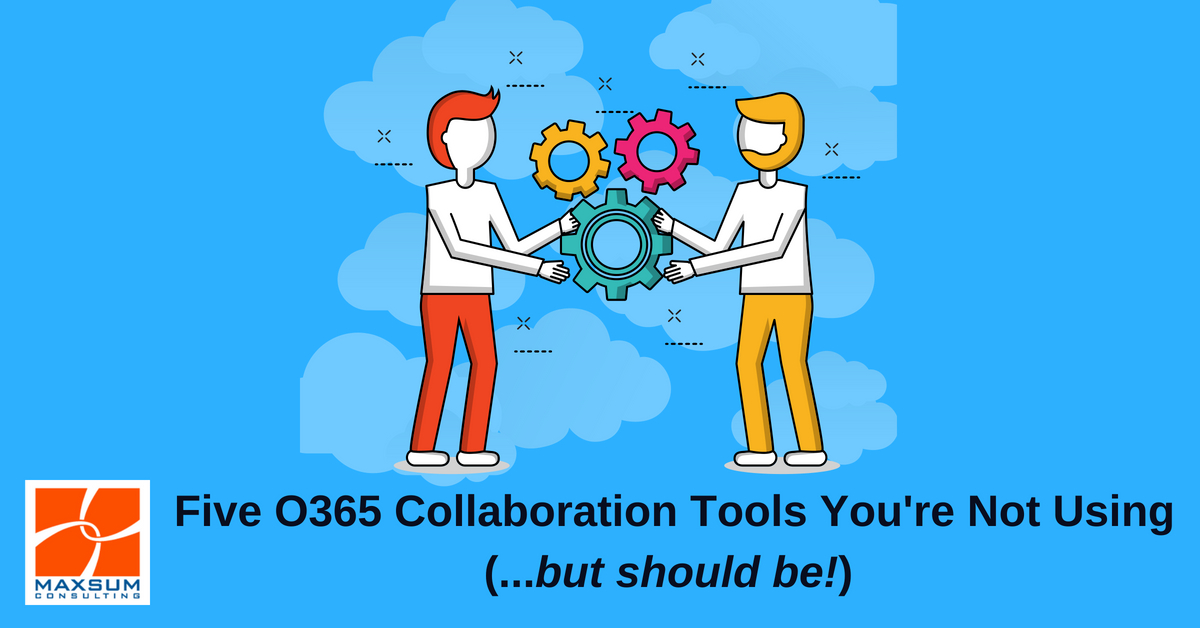 5 Office 365 collaboration tools you're not using…but should be!
Office 365 Collaboration Tools – Productivity Pro Tips
When we talk about leveraging technology to boost productivity in organisations we talk a lot about embracing the benefits of cloud, adopting more flexible ways of working, and mapping out better processes to support your new digital-age modern workplace. Microsoft Office 365 collaboration tools often play a central role in the cloud strategy for small to medium sized businesses and its important that you get the most out of your technology.
Full points to you if you're on this journey already, but once you've made the leap, how do you help your team members to get the most out of the technology you've invested in?
At "Office 365 Saturday" recently we heard that 86% of Office 365 users are still only using it for email 12 months on despite all the amazing collaboration options on offer within the suite of Office 365 collaboration tools.
Why? Well, the reality is – You don't know what you don't know, do you?
Most businesses just don't have the time or resources to commit to learning how to really leverage the true collaborative power their technology investments have to offer.
Take our Office 365 Collaboration Tools Productivity Pro Tips back to your team and help drive technology adoption in your workplace for real digital-age outcomes. AND, stay tuned for lots more Productivity Pro Tips to come so you can better leverage the technology you've already invested in!
Microsoft Office 365 Collaboration Tools – Plan Big, Do More, Communicate Better and the Automate It!
1. To-Do: Revolutionise the humble "To-Do" list.
Office 365 Collaboration Tools include a To-Do app, and its a real winner in turning to-dos into to-dones! Super intuitive and easy to use, To-Do syncs with your phone and PC so you can access and update your to-dos live wherever you are.
The power feature of To-Do is "My Day" which lets you list up what's on your roadmap for the day, also prompting you with previous items from the master "To Do" list to include again in My Day so you can get that stuff done! Learn more how to get started with To-Do here.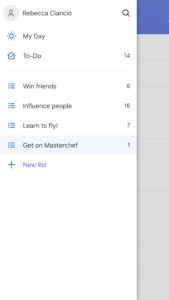 Got longer range goals or projects? Build out separate lists and use the newly added "Add Steps" feature to build even more milestones into your tasks. Open a list item and you'll find a prompt to +Add step to start building out your master plan!
Working in a team? No problem! Just right click on your list title to share your list. Then your co-collaborators can edit, update and contribute to that To-Do List as well.
And the best bit? The immensely satisfying "Ding!" you'll be rewarded with hearing when you check an item off your list. Go on, try it! You'll be getting stuff done just to hear that Ding! more often.
2. Forms: A much better way to canvass, track and present feedback fast!
Forms is a super smart and easy to use tool that lets you set up quizzes, polls and feedback forms in just a few clicks. This amazing product within the Office 365 collaboration tools enables you to use Forms internally for your team, and there's some great options for sharing your forms outside your org too via a link or QR code.
Forms is a super smart and easy to use tool that lets you set up quizzes, polls and feedback forms in just a few clicks. You can use Forms internally for your team, and there's some great options for sharing your forms outside your org too via a link or QR code.
Planning a team lunch and want to ask what your team would prefer? Next time don't send out a mass email and wait for the sporadic responses to trickle back into your inbox! Set up and send out a quick poll in Forms, watch the responses come in, and see Forms generate a dashboard that will display the responses visually for you. You can also download the results in Excel for use elsewhere too.
Learn how to build your first Form here.
3. Teams: Group work can work!
Teams offers O365 users a community workspace where groups can collaborate super effectively in a central hub and have access to everything they need. You can set up teams for departments or work groups in your organisation who need to collaborate more effectively, or project groups working on specific tasks.
Communicate and share content with team members using the conversation-style chat functionality, share documents, content and meeting notes, and work across Word, Excel, PowerPoint, SharePoint, OneNote, Planner, and more which are all built into Microsoft Teams.
As of recently too, Teams has enabled Guest access, which makes it perfect for incorporating team members on a project that exist outside of your organisation.
Start exploring how you can use Microsoft Teams here.
Insider Tip: Microsoft is continuously investing a lot of development energy into building out Teams . Start using it now, so you can be in the best position to capitalise on all the future developments to come! Here is a taste of some of the recent app intergrations for Microsoft Teams that are taking Teams from strength to strength. 
4. Planner: A premium project management tool for anyone.
Does your team have people working out of different locations? Are multiple people involved in different projects?
Well check out Planner as a way of bringing it all together. Planner is a more visual project management-style of tool for your teams where team members create plans, generate tasks and assign them to team members. It differs from the active collaboration space that Teams offers, by giving you a hub to plan, manage and record that activity!
Interactions in Planner are via the Board view, which features Task Cards where you can schedule and assign tasks. These Task Cards can then be moved between project status buckets as work progresses.
The Charts feature in Planner then gives you an higher level visualisation of the status of your projects, including workload assignments, what and who is on schedule, who and what is falling behind or has a deadline looming!
Learn how to create your first plan for tracking a project.
5. Power Automate: Speed up repetitive tasks and processes by automating them! 
Power Automate, formerly known as Flow, is Microsoft 365's low code tool for automating simple processes across the Office 365 suite of apps, and best of all, it's designed for non-IT experts to use! You can take Power Automate even further by automating more complex business multi-step processes and incorporating other third-party apps and services, although we would recommend getting some guidance from your Power Platform partner or Managed Services Provider to run a small test run before launching more complex processes.
Here are a few examples of some simple automations you can set up yourself with Power Automate.
Automate business processes, like message redirections, reminders, social media mention notifications.
Send automatic reminders for past due tasks
Move business data between systems on a schedule
Connect to almost 300 data sources or any publicly available API
Run approval processes and CRM integrated process flows.
Find out more about Power Automate and the enter Microsoft 365 Power Platform in our Automate This! series of articles.
Get started with Power Automate here.
Bonus Tip: Proactively manage your noisy inbox
Does this mean we're saying no email? No, we know that email makes the world go round, but did you know that the average office worker receives 120+ emails every day? That's a lot of interruption and distraction that can attack productivity right there. [Read here about Maxsum's own adventures in boosting team communication by limiting email]
With the Focused Inbox feature in Outlook and O365 your inbox is divided up into two tabs – Focused and Other. Focused Inbox will pre-sort your emails based on email accounts and contacts you interact with the most often and filters our automatically generated or mass mail outs.
But the best part about the Focused Inbox feature that most people don't utilise is that you can easily reclassify emails as Focused or Other and set rules around how you want those emails to arrive in your inbox. And the best bit? The more you "teach" Outlook what you want it to do, the smarter your Focused Inbox will get in predicting what you do and don't need to see straight up!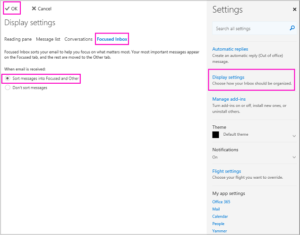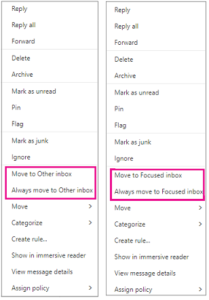 If you can't see your inbox split into Focused/Other already, you can switch it on in O365 by going: Outlook Settings > Display Settings > Focused Inbox.
To start redesigning your Inbox  right-click on any message to either move that message to the Focused or Other Inbox, or move all messages from that same sender to the Focused or Other Inbox.
The Wrap-Up
Office 365 is an absolute power-house of a product. It lives in the cloud, and the focus on customer experience led design, collaboration, communication and accessibility make it the perfect, secure, cloud-based platform for forging your business' digital future. Get more out of your O365 investment today by expanding your productivity with the Office 365 collaboration tools!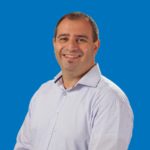 How we can help?
Talk to us today, about migrating to Office 365, building your cloud capabilities, and forging your organisation's digital future.
Call us today on 1300 MAXSUM or shoot us a message.
You might also be interested in:
Read More
Other great Maxsum content you might like to read: