Welcome to 2019! There's something about the new year, isn't there? You get back into the office feeling rejuvenated (hopefully!), and you're keen to think about the fresh and the new, about getting the new year started on the right foot! Well you're not alone! This is a great time of year to revisit some of your big business and technology goals with fresh set of eyes or spend a bit of time looking ahead at where you want your business to go, and how technology might be able to help you get there!
With that in mind, we thought we'd give you a bit of sneak peek into what's on our Maxsum agenda for the first half of the year. We've got some awesome new content, events, and product offerings ready to go for 2019, so read on for a snapshot of how we're planning to further enable opportunity and realise potential through technology in your organisation as we head towards 2020!
#MaxsumGoals2019 – We're committed to helping you:
Expand your IT Security Toolset
There's no denying cybersecurity was a massive theme over 2018 and will continue to present some major challenges for business into 2019. You might remember we launched our new MaxSec suite of security products in 2018, and we've been working with lots of clients on enabling multifactor authentication or MFA recently.
Early in 2019 we'll be talking next about mobile device management or MDM and what businesses that have company or personal mobile devices in use in their work environments need to be looking at to really stay secure! Stay tuned for this and more IT security updates over 2019.
Want to find out if you're IT security is up to scratch? Give us a call on 1300 629 786 to get the conversation started.
Embrace change…for the better!
Another big focus for early 2019 is going to be assisting our clients on the transition from Skype for Business to Microsoft Teams. Now I know lots of us have used and loved S4B for a long time now, but Microsoft Teams has some amazing communication and collaboration features that go well and beyond what S4B ever had on offer. This is going to be really exciting for lots of businesses and is going to give you the opportunity to really leverage your investment in Microsoft Office 365. We'll be talking a lot over the coming months about managing your move to Microsoft Teams if you're not there already, and what you can do once you get there!
Book at time to have a chat about what the transition from Skype for Business to Microsoft Teams is all about.
Open up new and innovative pathways to better manage your enterprise IT resources.
During late 2018 we also started talking and working with our partners Citrix and Nutanix around hyperconverged infrastructure (HCI) and what it can offer enterprises in terms of next-level visibility and scaling for your IT management resources. We're super excited to be building on this over 2019 and we'll be talking much more this year about all the hyperconverged infrastructure whys and what fors.
Coming soon! Stay tuned for an introduction to HCI on the Maxsum Blog in coming weeks!
Engage in technology conversations in your industries and sectors !
Coming up in May 2019 is Connecting Up's annual technology conference for the not-for-profit sector. This year the theme is "Transform" and it's being held in our own backyard right here in Melbourne, Victoria. Maxsum is excited to be a sponsor and a presenter at the 2019 conference, so if you're engaged in the not-for-profit sector, join us at Transform 2019 and find out where technology is headed and how you can get there too!
Want to join us at Transform 2019? Check out what it's all about here!
Get ready to embrace more of the now, the new and the next in tech !
We've got some exciting plans and partnerships underway to explore new horizons in IoT, machine learning and data analytics during 2019. Even better – we're going to be getting out of the workshop and trialing some new ideas "in the wild" with clients and partners to apply new and next technologies to real-world challenges and opportunities.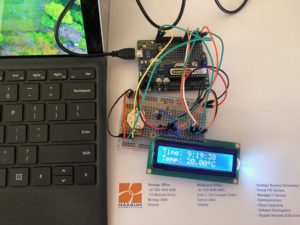 Here's a little taste of some fun we've been having in the workshop…
Interested in IoT, machine learning and data analytics – come talk to us and get onboard for 2019! 
---
After a huge 2018, the Maxsum Team is excited to be back on deck and ready to launch into the year ahead. There's always lots happening at Maxsum so get the latest during 2019 by following us on LinkedIn, Twitter, or Facebook, watch out for our latest blog, video and news posts at www.maxsum.com and of course, give us a call on 1300 MAXSUM or come in and have a chat anytime!