The 2020 IT Trends proactive decision makers already have on their radars!
Find out the Top 8 2020 IT Trends already on the IT agendas of future-focused businesses for 2020!
Here's a thought….Have you realised that we are equally as far away from 2050 today as we are 1990?
If we take a moment to flash back to some of the foundational technologies that the 1990s delivered to us – the World Wide Web, the introduction of eCommerce, the popularisation of PDAs, 2G mobile, and big increases in personal data storage capabilities thanks to USBs, MP3 players, and DVRs, we can see that these technologies laid the groundwork for the hyperconnected, data rich world we've built today. It makes us wonder how emerging 2020 IT trends might similarly determine how we work and live over decades to come.
So what do IT movers and shakers have on their radars today at the start of this new decade?
Let's take a look at the hot topics dominating the 2020 IT trends watch!
1. Using data to deliver a truly connected customer experience – at last!
A whopping 93% of business leaders are telling us that delivering a reliable and relevant customer experience will be critical to sustaining and growing their businesses this decade. Key to this will be delivering, integrating and automating the way businesses collect, analyse and utilise their data to actually improve (and pre-emptively tailor) customer experience.
Whilst data-driven, automated marketing and advertising are becoming more embedded in organisations, the next frontier will be to get businesses collecting and applying data-driven insights across the full customer journey (including backend services and functions) to deliver a fully connected end-to-end data-driven customer experience.
2. Using IoT and business intelligence to drive business efficiency gains
Think for a moment about all the data you have sitting across your organisation. Undoubtedly you will have large quantities of data sitting in existing software systems and line-of-business applications. But how often is that data actually utilised? Not often.
Today's IoT technologies and business intelligence tools now allow you to centrally capture AND process data in ways that will provide previously unseen and real benefits, especially in the manufacturing, agriculture, transport and mining sectors, where commercially viable applications are already in use.
2020 should be the year your start to explore how leveraging your data and IoT can position your organisation to reap the rewards of serious efficiency and productivity gains, streamlined operations, reduced down-time, seamless visibility across your operations and bringing new products and services to market.
3. Gearing up for 5G to hit its stride
Despite all the hype, many would argue that 5G underwhelmed in 2019. But as we play infrastructure catch-up, savvy decision makers are keeping their eyes firmly on the 5G ball! 5G will enable flows of the massive volumes of data we need to make IoT applications viable at scale with the low latency, high bandwidth and resiliency it will take to enable truly mobile edge computing. 5G is also going to be a key factor in finally delivering functional virtual and augmented reality tools on the front lines of the industrial and healthcare sectors.
4. Maturing the artificial intelligence and machine learning discussion
Now that we're hopefully passed the doomsday talk of robots taking all our jobs, business can start looking at what the real gains will be from getting in on the ground floor of AI and ML.
Leading organisations that are already investing in AI and ML aren't looking at reducing head counts; they're focused on delivering faster, more personalized customer service, reducing human bias and error, and increasing productivity through automation.
What those already on the AI/ML track are telling us already is that quality data and end-to-end connectivity and integration are key. Obviously if AI is the "brain", it needs quality data to keep it healthy, and a well-connected "nervous system" of APIs and integrations to do its's bidding!
5. Understanding the move to multi-cloud computing – when one cloud is just not enough!
Many enterprises are already heading towards what's set to become the new norm in cloud computing – the use of multiple could computing and storage services (i.e. two or more public cloud services as well as private clouds) to distribute their computing resources and minimize any risk of downtime or data loss.
The benefit? Enterprises can choose the best of the best services from each cloud service offering, especially where there may be complex regulatory requirements across the business.
The downside? It's no mean feat to manage the complexities of balancing and moving workloads in a multicloud environment – any cloud choices need to be strategically driven and robustly managed, which leads to our next point…
6. Keeping pace with cybersecurity and data privacy challenges
Data breaches, ransomware, phishing, social engineering, business email compromises – they're not going away anytime soon. But leading companies are looking at taking a more mature approach to their IT security, rather than just playing endless whack-a-mole.
This includes:
• Transitioning to next-generation security tools that leverage machine learning and analytics to provide the best possible defense and response
• Staying informed and maintaining security awareness as a routine exercise
• And asking the important privacy and security questions – first, often and always.
Find out more about what companies winning at IT security are doing right here.
7. Creating a one-stop shop for your high-impact workflows
The last few years have seen many organisations embrace the all new way of working collaboration hubs like the all-powerful Microsoft Teams have to offer.
Proactive organisations that have strategically scoped, planned and managed their move to Microsoft Teams and its uptake across their organization will be looking at how to bring their high-impact workflows into the one-stop-shop that is Teams. This will be the year that many strong Teams players will start looking at integrating Power BI, Flow and PowerApps into their Teams toolkit!
8. Opening the door to new technology and industry partnerships
IT departments are under immense daily pressure – they lack budget, they lack skilled resources, and the majority of their time is spent on maintaining day to day operations, including putting out fires and combating the onslaught of security threats.
This doesn't leave them much time to support the business to deliver it's broader business goals – which was the whole point of the IT-Business alignment push of recent years, much less keep up with industry trends.
Many businesses are seeing their IT departments struggling to meet deadlines and deliver strategic projects as it stands now. So today they are increasingly looking for enablers and partners that can deliver project and technical expertise on demand into their organisations to help the organisation deliver on their broader strategic objectives, whilst freeing up their internal resources to focus on day to day operational IT needs. This means breaking down some traditional in-house vs outsourced IT perceptions, and empowering IT teams to build and nurture an ecosystem of partners.
In addition to this, emerging technologies are bringing together businesses and industries all new ways. Leading businesses actively looking to forge creative business and technology partnerships in new areas – even with partners outside their own industry.
So there you have it! The 2020 IT Trends we see on the agendas of future-focused businesses for 2020.
PLUS! Check out our Maxsum Cheat Sheet below from our Forging our Digital Future Maxsum whitepaper for a snapshot of what's on the horizon for Australian SME's in the next 5 years and beyond.
Reach out to us at Maxsum on 1300 629 786 or contact us here to find out more about any of our top 2020 IT trends, and how you can best position your business for the decade ahead!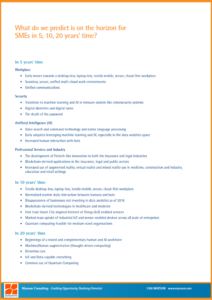 OR Download a PDF Version Here: Technology Predictions for SMEs (by Maxsum Consulting) 
---